The oldest unmarried Duggar lists 'traits of a sociopath' in a social media post weeks after her cousin was found guilty of the possession of child pornography.
AceShowbiz –Amy Duggar seemingly has been holding nothing back from her social media platform about her controversial family. Weeks after Josh Duggar was found guilty of the possession of child pornography, the oldest unmarried Duggar seemed to call her cousin "sociopath."
Taking to her Twitter account on December 18, she simply listed "traits of a sociopath." The former "19 Kids and Counting" star mentioned that the traits included "lack of remorse, guilt or empathy, constant deception, inability to form emotional attachments, superficial charm, dishonesty, manipulative, reckless behavior."
Amy's Twitter post came only weeks after her cousin's guilty verdict, prompting fans to assume that she was throwing shade. One person tweeted in response, "Hmm… now who does that sound like?" A second said, "Fits so many people." Other Twitter users were quick to name names, writing, "= Josh Duggar," and, "Definitely Josh."
Then on December 21, Amy seemingly wants people to know that she's a realist and transparent. "Work on things that people cannot take away from you… like your character, transparency, and your personality your entire being," she tweeted, adding a black heart emoji.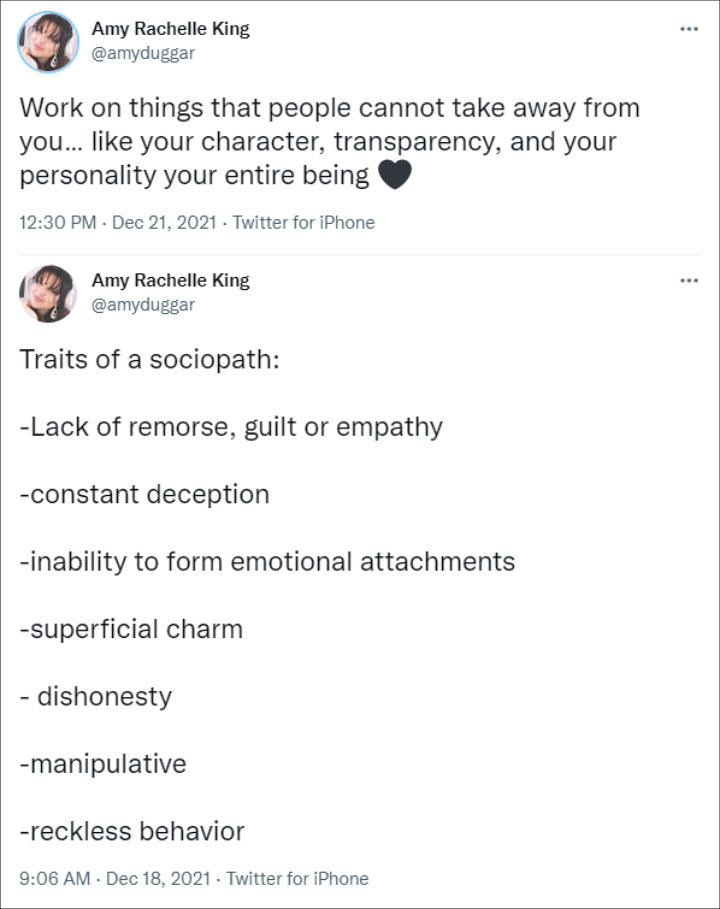 Amy Duggar seemingly threw shades at her cousin Josh Duggar following his guilty verdict.
Prior to Josh's guilty verdict, Amy once stated that she wants her cousin to get the "ultimate sentence" from the judge. The former "Counting On" star wrote via Instagram, "Today is a heavy day. This whole week will be. Next week will be too. Until justice is served."
"Vengeance is mine sayeth the Lord, I will repay thee," Amy added. The TV personality went on saying, "Please pray for the victims, and for the truth to be revealed. Pray that the judge will give the ultimate sentence."
Indeed, Amy often speaks out about her famous family. Earlier this week, Amy shared yet another cryptic tweet, seemingly accusing Jim Bob Duggar and Michelle Duggar of "taking advantage" of their eldest daughter Jana Duggar, who spent a good portion of her childhood helping with her parents' 18 other children, following her recent child endangerment misdemeanor.
"I believe that if you are a parent you should watch your own children. It's not right to always have someone else watching them for you," Amy began. In a following tweet, she penned, "OK let me clear something up. I'm not talking about loving good parents that work and provide for their families."
Amy further noted that she still "supports" that. She stressed, "I'm talking about people who rely on Aunt's [sic] or friends or anyone that takes advantage of people. Just simply because they can."
"Your kids even your older kids should not be your built in babysitter. Your kids no matter what their age is should be able to live a normal adolescent life," Amy added. She then concluded her post, saying, "Helping out every once in a while is great but if you're gonna have that many kids then be responsible for them."
Source: Read Full Article