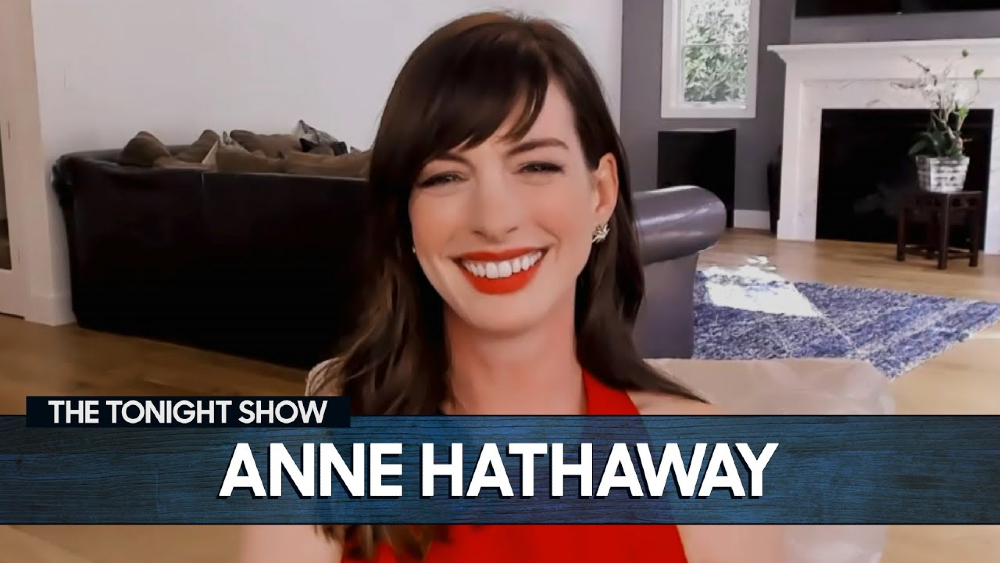 Anne Hathaway and Chiwetel Ejiofor star in a new HBO Max film, Locked Down, that I really want to see. They're a couple whose relationship is all but over when they find themselves quarantined together. Somehow, they end up stealing a three million pound diamond from Harrods and I guess there's a murderous mafia boss to boot. It looks funny and chaotic and I love the cast. Anne is doing promotion for the film and swung by The Tonight Show with Jimmy Fallon. Apparently, she hasn't been there in some time because Jimmy was congratulating her on her second baby, who is already a year old now. 2020 was such a time loop.
The interview was cute, if not very deep. Anne called in from what looks like her family room, which is big and airy and makes for terrible acoustics. Jimmy asked Anne what he should call her. It's a good question because I've noticed that when Anne quotes people talking to her, she always has them calling her Annie. So what does Anne like to be called? Anything but Anne, that's for sure. And the reason is pretty relatable. She's only gets called Anne by her mom when she's in big trouble.
Turns out, fans have been calling Anne Hathaway by the wrong name for her entire career! The 38-year-old Oscar winner appeared on Tuesday's The Tonight Show where host Jimmy Fallon noted that he'd heard Hathaway's close friends refer to her as "Annie."

"Call me Annie, everybody, everybody, call me Annie, please," Hathaway begged before getting into the confusion over her name.

"When I was 14 years old, I did a commercial, and I had to get my SAG card and they asked me, 'Well, what do you want your name to be?'" she explained. "And I was like, 'Well, it should be my name. My name's Anne Hathaway.' So that seemed like the right choice, but it never occurred to me that for the rest of my life, people will call me Anne."

Hathaway added that it's jarring to be called "Anne" by fans when they approach her in public.

"The only person who calls me Anne is my mother and she only does it when she's really mad at me, like really mad," the Locked Down star shared. "So every time I step out in public and someone calls my name, I think they're going to yell at me."

"People are like, 'Anne!' And I'm like 'What? What did I do?!'" she joked. "People are so lovely they don't want to be presumptuous and so I think they come up with workarounds on set because the truth is nobody's comfortable with calling me Anne ever. It doesn't fit. I'm an Annie. People call me H, people call me Hath, so feel free, call me anything but Anne."
[From ET]
I totally feel Anne on this name thing and ironically, I kind of don't know how to refer to her as I write this. It's even funnier to me in her case because Anne Hathaway is a famous historical person, so there's already connotations/stigmas when people hear the name. But I'm weird about my name too so I get it. My mom named me something that was very popular the year I was born. She claims it was a nod to my paternal grandmother, since it's a version of her middle name, but that's a tenuous connection at best. My dad asked for a girl's name that could be shortened to a boy's name and as a result, no one in my family has ever called me anything but the shortened version of my name. My real name never seemed to fit me, so my friends called me by my initials. I write under pseudonyms and that's what those communities call me. So, like Anne, when someone uses my legal name, I assume there's a problem. I'm a mess in doctor's offices.
I'm posting both clips of Annie's segments below. The first one because it's relevant to the story and the second because I thought it was fun. They play one of Jimmy's games and Anne revealed her first celebrity crushes were Leonardo DiCaprio and Eddie Vedder – that's quite a combo. I can't talk, though – mine were Shaun Cassidy and *mumbles* Scott Baio. Don't worry, I replaced him very quickly with Harrison Ford! Jimmy's story about trying to schedule a fight in middle school due to extracurricular activities is pretty funny. Locked Down premieres today.
https://www.instagram.com/p/CIWhCVQr_HB/
A post shared by Anne Hathaway (@annehathaway)
https://www.instagram.com/p/CGxwzDoLEGY/
A post shared by Anne Hathaway (@annehathaway)
Photo credit: YouTube and Instagram
Source: Read Full Article