The 'Shea Butter Baby' singer tells her Twitter followers the one regret she had following her brush-off with the Dutch law enforcement in an Amsterdam airport.
AceShowbiz –Ari Lennox returned to Twitter to talk about her Amsterdam arrest. The "Shea Butter Baby" hitmaker opened up on her regret after she accused airport officials in Netherlands of being racist as she was taken into custody upon her arrival in the country.
"My only regret is my reaction to the racism and discrimination I experienced," she told her online devotees before claiming she was brushed off by the officials when trying to defend herself. "I would like to explain what happened to me but KLM has made it clear that they never cared to hear it from jump."
She lamented, "It's painful being silenced like this. It's painful what I went through. I'm not ok."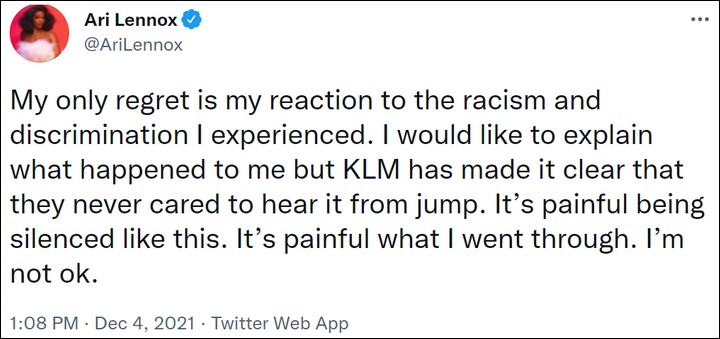 Ari Lennox revealed her regret post arrest
Lennox was apparently arrested due to an incident with KLM, a Netherlands-based airline.
In a series of deleted messages, she ranted, "F*ck Amsterdam. F*ck klm. Never in my life," just a few minutes after sending a friendly "Hi Amsterdam."
"F**k Amsterdam security. They hate black people," she also wrote. "Racism. Wow Amsterdam I'm horrified. I was happy to travel and this evil woman… I've never experienced racism so blatant."
She later added, "I'm being arrested in Amsterdam for reacting to a woman racially profiling me."
Meanwhile, Dutch official said the singer was arrested due to "aggressive behaviour."
"Our unit found a woman full of emotions, that wouldn't calm down," spokesman Robert van Kapel claimed. "That's why she had to be taken into custody."
Several hours later, Lennox gave update on her social media after she was released, "Hey loves I'm safe. Thank you so much for your prayers and love."
Source: Read Full Article