After his past 'offensive' remarks resurfaced online, the 'Itsy Bitsy Spiders' actor issues a public apology in which he vows that he takes 'full responsibility.'
AceShowbiz –Billie Eilish's boyfriend Matthew Tyler Vorce has issued an apology after his past "offensive" remarks resurfaced. The "Therefore I Am" songstress' beau shared a statement on his now-private Instagram account to express his remorse over his "hurtful" racist and homophobic remarks.
On Thursday, June 16, the 29-year-old actor wrote in an Instagram Story, "I want to apologize for the things that I wrote on social media in the past. The language I used was hurtful and irresponsible and I understand how offensive those words are." He continued, "Whether it was a lyric, a quote or just me being dumb, it does not matter."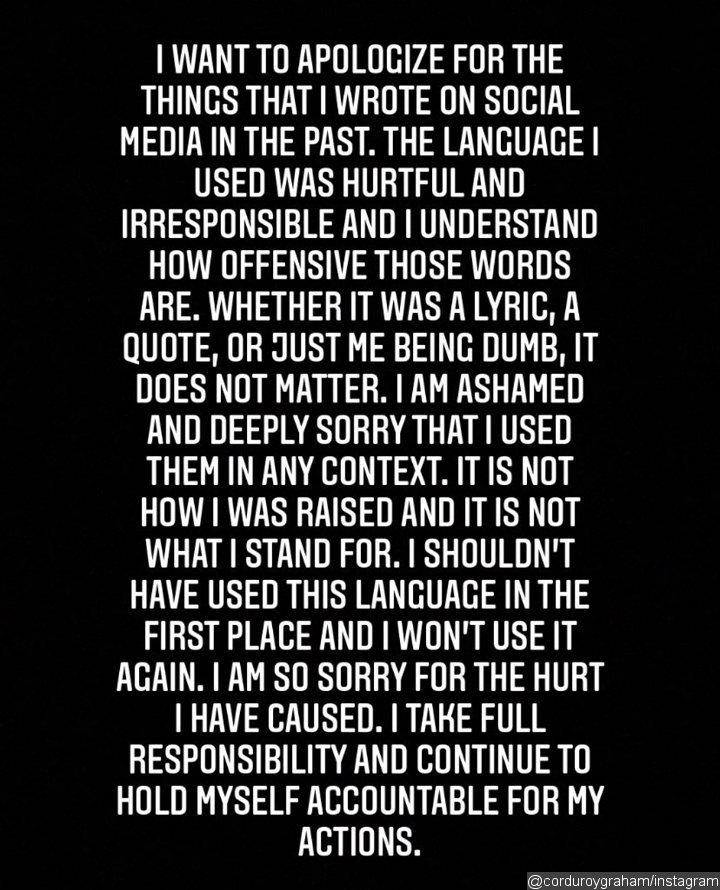 Matthew Tyler Vorce issued an apology via Instagram Story.
"I am ashamed and deeply sorry that I used them in any context. It is not how I was raised and it is not what I stand for," Matthew elaborated further. "I shouldn't have used this language in the first place and I won't use it again. I am so sorry for the hurt I have caused."
Matthew wrapped up his apology by taking responsibility for his past statements. "I take full responsibility and continue to hold myself accountable for my actions," the actor, who appeared in "Mother, May I Sleep With Danger?" alongside James Franco, concluded.
Matthew's apology came after fans of the Grammy-winning singer found tweets and Facebook posts where he allegedly used the N-word, mocked Asian people for wearing face masks, used homophobic slurs, called girls "sluts" and described singer Adele as "a British Miss Piggy."
In one Facebook post, he admitted to imagining decapitating a woman. "When I see a pretty girl walking down the street I think two things, one part of me wants to take her out, and talk to her, be real nice and treat her right. The other part of me wants to know what her head would look like on a stick," read the disturbing post.
Billie and Matthew sparked dating rumors back in April when the couple was spotted enjoying a weekend stroll at a cafe in Santa Barbara, California. At one point during the outing, the "Bad Guy" singer was pictured resting her head on her beau's shoulder as he placed his hand around her neck.
Source: Read Full Article