If you're looking for a meal that eaters of all ages will love, look no further than Food Network host Giada De Laurentiis' Italian Baked Chicken and Pastina. Featuring small pasta, the chef's crowd-pleasing casserole is brimming with chicken, cheese, and vegetables and is comfort on a plate.
De Laurentiis' Italian Baked Chicken and Pastina is an easy weeknight meal
With basic pantry ingredients, this casserole dish can come together quickly for a filling and tasty meal, even on busy weeknights.
De Laurentiis calls for pastina pasta (or any small pasta of your choice), olive oil, cubed chicken breast, onion, garlic, canned diced tomatoes, shredded mozzarella cheese, fresh parsley, bread crumbs, grated Parmesan cheese, and butter.
As the Everyday Italian host notes in the Food Network video for the recipe, "Pastina may be the most kid-friendly pasta because it's small and comes in fun shapes. I'm going to mix it with sautéed chicken and vegetables then bake it with a cheesy Parmesan crust on top. The kids will love Baked Chicken with Pastina, and so will you."
The chef notes that "pastina just means little pasta" and can be any shaped small pasta including elbow macaroni, which she uses in this recipe.
Get the full recipe, video, and reviews on Food Network's site.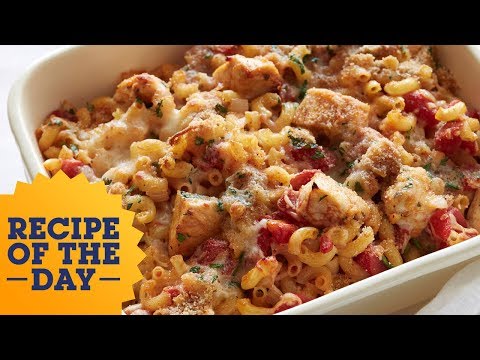 Giada De Laurentiis' casserole satisfies even the pickiest eaters
De Laurentiis starts by pouring elbow macaroni into a pot of salted, boiling water ("Because the pasta is so small, it only takes about five or six minutes to cook"). In the meantime, the diced chicken, onion, and garlic are cooked in oil in a skillet.
The chef notes that it's not necessary to cook the chicken all the way through ("The chicken will finish cooking in the oven with the pasta; you just want to give it a little bit of flavor, so I'm browning it in the pan").
"My mom used to make this kind of dish for us when we were kids, I absolutely loved it; it's one of the ultimate comfort foods for us," De Laurentiis recalled. "You could smell it all over the house, too. And what kid doesn't love a cheesy pasta dish?"
Once the pasta is "just a little bit under al dente," it can be strained in a colander and combined on a platter with the chicken, onions, and garlic. The grated cheeses are added along with the fresh parsley and canned diced tomatoes. It's all poured into a greased baking dish and topped with a generous amount of bread crumbs and more grated Parmesan cheese. Bake in a preheated 400 degree F oven for 30 minutes for a quick, comforting, delicious weeknight meal.
De Laurentiis' recipe received more than 1000 multiple-star reviews
This no-fuss dish is a hit on Food Network's site, where as of now, reviewers have given it well over 1000 four-star and above reviews.
"Excellent! I make this for my children all the time and they love it! Thanks, Giada," one home cook wrote.
Another happy fan said, "I just made this recipe and it was really good. Having three young children, it is hard to find new and different recipes to make that they all love. This one they did. I love that it was easy to make and took pretty basic ingredients I already had."
Source: Read Full Article