Food Network personality Giada De Laurentiis' Short Rib Ragu is definitely not short on flavor. This sumptuous sauce is the ultimate "fix-it-and-forget-it" dish and has quite a cast of ingredients to thank for its complex flavors including San Marzano tomatoes, red wine, and even dark chocolate. It's a recipe for which reviewers had no lack of strong opinions.
Giada De Laurentiis calls her Short Rib Ragu 'a classic'
The Food Network chef knows her meaty pasta sauce is a winner, as she said on her lifestyle and food blog Giadzy. Home cooks love it for its effortlessness: once most of the ingredients are in the saucepot or slow cooker, it can be left to braise.
"My short rib ragu is a classic recipe of mine that I've made for ages," the Rome-born chef said. "I gave it an update with San Marzano Style Tomatoes and adapted it to the slow cooker to make it extra simple. I think this would be a perfect dish to make for Valentine's day or any special day – you can relax while the short ribs braise to tender perfection in the slow cooker!"
The ingredients that make this sauce unique
De Laurentiis' dish calls for boneless short ribs, red onion, carrots, garlic, tomato paste, unsweetened cocoa powder, red wine, the crushed San Marzano tomatoes, a rind of Parmesan cheese, and 80% or higher dark chocolate.
"The grated chocolate on top is optional," the Everyday Italian star notes, "but I highly recommend trying it. It gives the entire dish such a wonderful warmth and complexity. If you have leftover sauce, it freezes really well!"
The dish gets started by searing the short ribs. The vegetables are then softened and the tomato paste, cocoa powder, and red wine are added. It's all placed in a slow cooker, along with the tomatoes and Parmesan rind. After four hours, the meat is shredded and served, De Laurentiis suggests, over pasta or polenta. If using the grated dark chocolate, it's sprinkled over the final dish.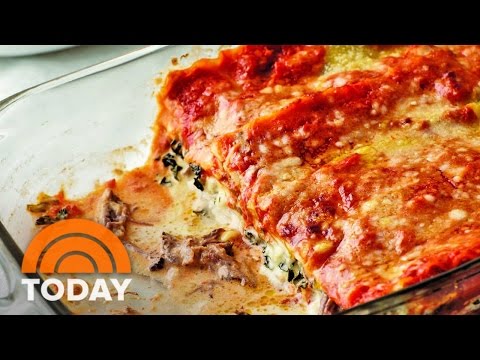 Reviewers weighed in on De Laurentiis' use of chocolate in a pasta sauce
Surprisingly, many of the reviewers for the Rome-born chef's short ribs sauce gave a solid thumbs-up to her use of chocolate in this savory dish.
"I make this frequently. It takes time, but it is worth it. Don't be afraid of the chocolate," said one home cook on Food Network's site.
Another reviewer agreed, saying, "First time I made it for my two teen grandsons and promised them pizza if they hated it….there were no leftovers. Second time I doubled it and served it with the chocolate to rave reviews."
"Don't forgo the chocolate. Really adds an interest and unique taste," one fan wrote, while another made it clear that De Laurentiis knew what she was doing in adding chocolate to this recipe: "Made this last night for the first time and it was excellent. We love short ribs and have been dying to try them in a pasta sauce recipe. This one is perfect. Used the chocolate at the end and added a great additional depth of flavor. Will definitely make again. The hardest part of this recipe is waiting for it to be done so you can enjoy it!"
You can find De Laurentiis' full recipe on Giadzy.
Source: Read Full Article