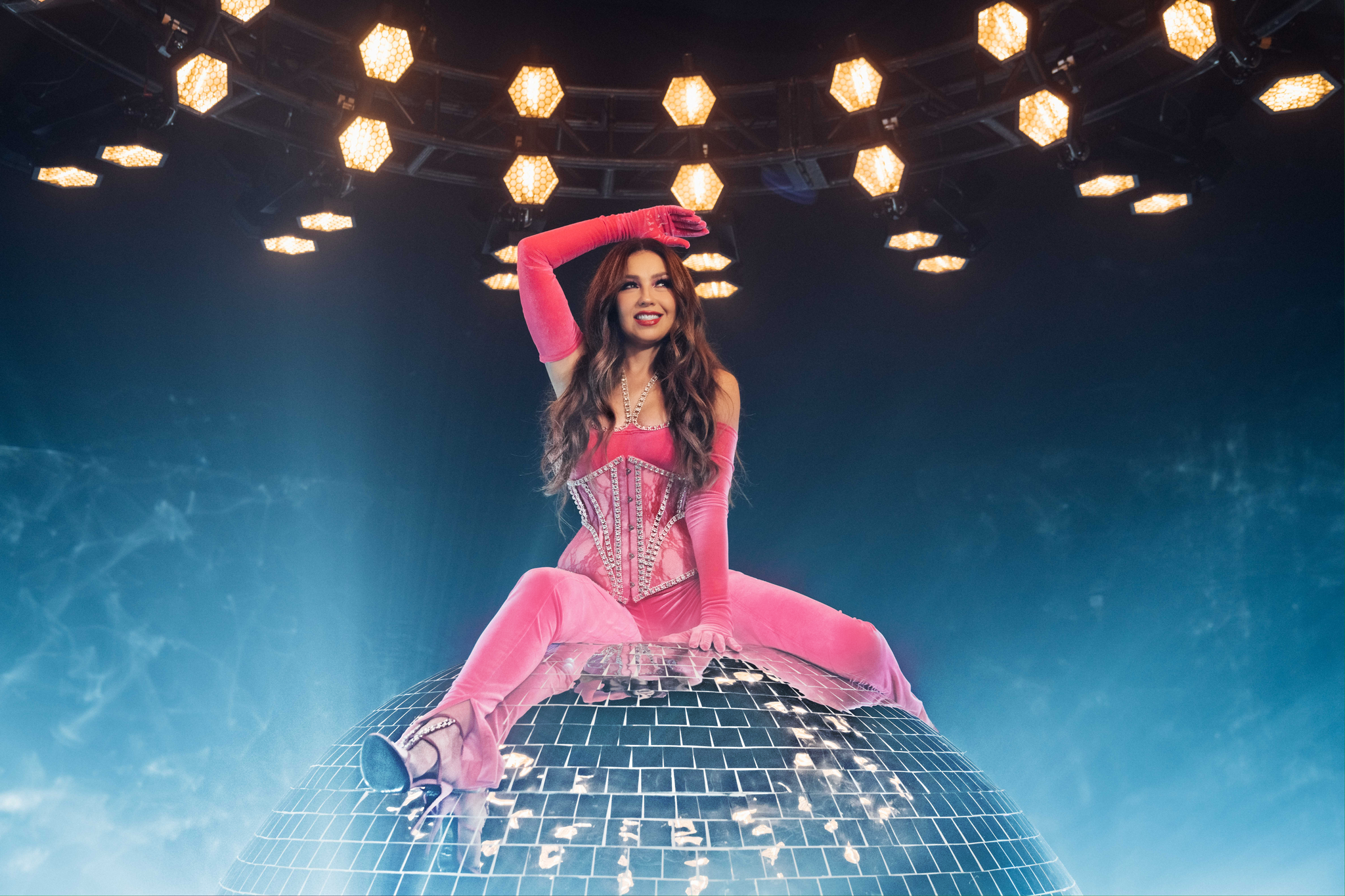 We've all been there: you're in a romantic relationship that isn't exactly the healthiest, and it eventually triggers your inner loca, or what men love to refer to as "psycho b*tch." Maybe they were unfaithful or treated you poorly, eventually breaking both your heart and your trust in them. You might have tolerated it for weeks, months, or even years until it drove you temporarily to lose your sh*t. This is exactly what Mexican singer and icon Thalía tapped into when she wrote her latest single, "Psycho B*tch," which dropped on Friday, Nov. 4, 2022. Thalía managed to take an ugly reality and an exhausting stereotype — cause Latinas stay getting a bad rep for being spitfire locas — and turned it into something both humorous and empowering. It's relatable, to say the least.
Thalía believes psycho b*tch is a side everyone can channel if pushed or triggered enough. She also doesn't see this side as necessarily good or bad, just a human side that naturally comes out when you've had enough. "It's just that fun aspect of like don't push my buttons. You're going to find me. Don't trigger me. Be careful," she playfully explains to POPSUGAR during an in-person interview.
The track feels like old-school electro-pop ballads and new-school Thalía meet modern disco. And the lyrics are catchy enough to get stuck in your head. The chorus reads: "Oops que pasa aquí? / Cómo me controlas cuando tú me tienes así lo loca lo, lo loca lo / Oops te lo advertí / Soy un poco impredecible / Medio psycho b*tch. Psy Psyco B*tch. Oops podre de ti / Cómo me controlas cuando tú me tienes así. Lo loca lo, lo loca por ti."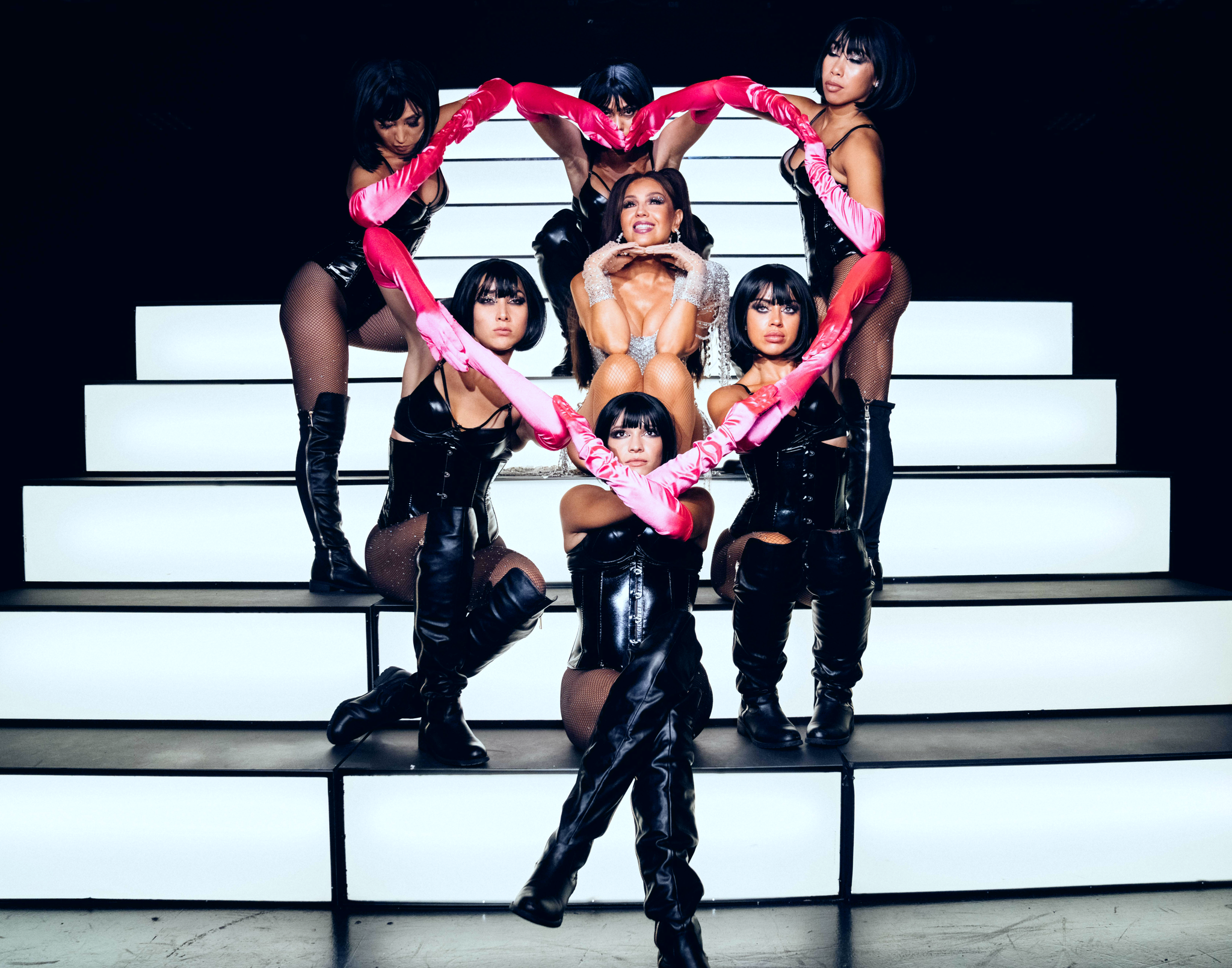 Thalía has an over 30-year career that hasn't just been successful but is clearly not slowing down anytime soon. From her teen band days with Timbiriche in the '80s to her "Piel Morena" days in the '90s and modern days collaborating with everyone from Romeo Santos to Natti Natasha and Maluma, her innovative spirit is what's allowed the artist to remain relevant and still peaking on the charts.
"I really like the process of getting in the studio and really writing the song. I talk to the producers, and I talk to the musicians. And the collabs, I believe in those collabs because even if they are fresh, new artists I learn so much from them or they learn so much from me. Or legends, like if I sing with some big names I learn so much," she says. "So, to me, all of that . . . refreshes everything and my perspective. And of course, life keeps changing constantly. It doesn't just stop changing. You cannot stop. If you are afraid of change you stop. And I embrace change. I love change."
The singer, who started her singing career mostly in Spanish but felt the pressure to cross over to English during the early 2000s Latin explosion period, expresses how much it inspires her to see this generation of Latin music artists sticking to Spanish and still finding major success.
"It is amazing what's happening right now in Spanish. It's incredible. Because just every so-and-so period of time there's a Latin explosion. If you go back then you have Carmen Miranda and later it was Julio Iglesias and Gloria Estefan. And then it was Marc Anthony, Shakira, Enrique Iglesias, Ricky Martin, and now with this new generation it's finally in Spanish," she says. "And it's the opposite. It's like the global singers have to sing in Spanish on our tracks and before we had to sing in English. Even though we were singing our Latin rhythms, we were singing in English."
Thalía's self-titled English-language album debuted in 2003 and featured Fat Joe in the popular single ". . . I Want You." This year marked the 20-year anniversary of Thalía's 2002 self-titled album, which really paved the way for her musical career with singles like "Tú y Yo," "No Me Enseñaste," and ¿A Quién Le Importa?" She has debuted and peaked on the Billboard music charts throughout her career while never being afraid to evolve, even switching from pop to urban sounds in recent years. Her versatility is what's guided the trajectory of her career. As the culture changes, so does she.
Speaking of change, in a culture that's constantly evolving, does the icon worry that a song like "Psycho B*tch" will set us back or further stereotype Latinas as hot-tempered psycho b*tches? Not at all. In fact, she thinks this generation has moved past that. "That's old-fashioned thinking, no? I think right now it's finally changing because there's a lot of conversation, there's a lot of social media topics and people using their platforms to talk about these things that before didn't have the opportunity to do," she says. "So, I think it's fantastic that now the young generation isn't taking that. They're not taking any criticism or anything. It's just like don't cross that line. That's a boomer mentality."
We're all for reclaiming and owning all aspects of yourself, the good, the bad, and your inner loquita. Just maybe don't unblock your ex to send him this song. Just saying.
Check out the new music video for "Psycho B*tch" below!
Source: Read Full Article