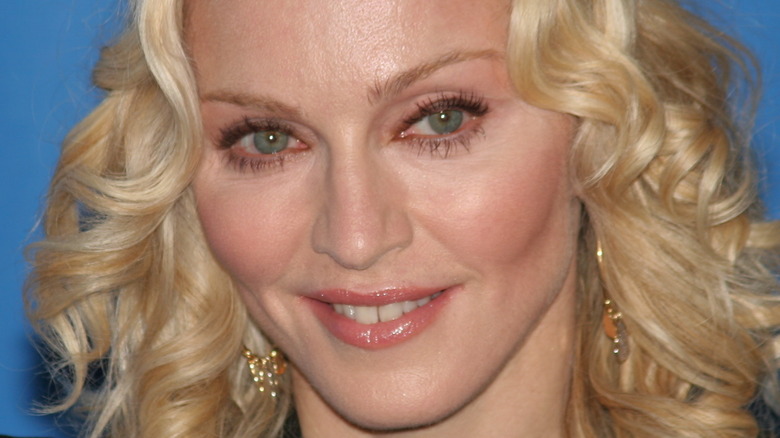 Denis Makarenko/Shutterstock
By Sophie McEvoy/Aug. 25, 2021 2:17 pm EDT
Many celebrities are related in one way or another, and some distantly so. For instance, Tom Hanks just so happens to be a descendant of Abraham Lincoln through the president's mother, Nancy Hanks. As the Daily Mail notes, the actor is the 16th U.S. president's third cousin, four times removed. The relation is obviously well-known within the Hanks family, and according to the actor, this major fact has been passed down throughout the generations.
Madonna is another celeb that has a pretty important family tree, even so far as tracing back to royalty. The singer has connections to French-Canadian ancestry through her mother's side, which leads as far back to the bloodline of royalty. According to Hello!, Madonna is a descendant of the 17th-century couple Madeleine Ernard and Zacharie Cloutier, who were part of high society in Canada.
This ancestry has provided Madonna with some pretty amazing family ties, like being the ninth cousin to the Duchess of Cornwall, Camilla Parker-Bowles.
Here's how Madonna discovered her relation to Celine Dione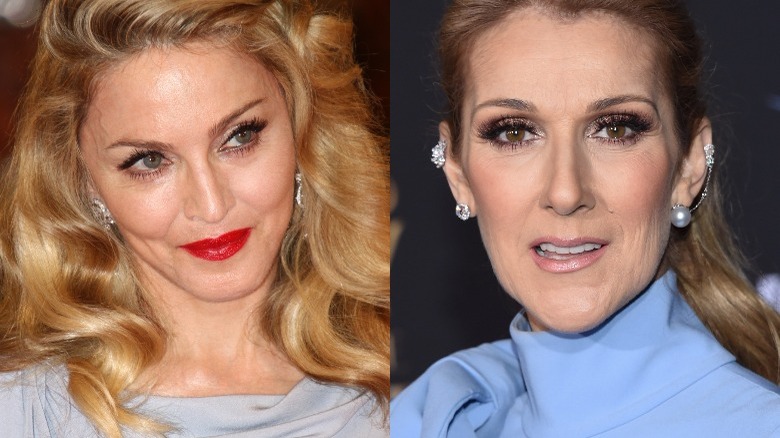 Madonna isn't the only trans-Atlantic relative of the future Princess Consort of England (via Good To Know), as Ernard and Cloutier's bloodline also connects the singer to Canadian pop star Celine Dion, as well as Hollywood darling Angelina Jolie (via Perche-Quebec.com).
Madonna, Dion, and Jolie are all ninth cousins to the Duchess of Cornwall and therefore share a distant familial bond with each other as well. This makes Madonna and Dion eighth cousins, according to genealogy website My Heritage.
But how did all this gene-tracing come about? Well, according to Hello!, Madonna worked with genealogist William Addams Reitweisner to trace back her family history, which led to these discoveries. "Camilla and Madonna are both descended from Zacharie Cloutier. …and Camilla and Celine descend from Jean Guyon," the genealogist told the Irish Examiner. "Both Jean and Zacharie died in Chateau-Richer, Quebec. Because of their unusual French-Canadian ancestry, they are all blood relations."
While the two stars aren't seen together that often, they do meet up when they can. "We meet here and there. She works a lot, and I do to, so once in a while when we can say hi we do," Dion told Access Hollywood (via YouTube). Dion also revealed that Madonna's dad is a huge fan of her work. "Every time we see each other we kind of laugh [about it]."
Source: Read Full Article