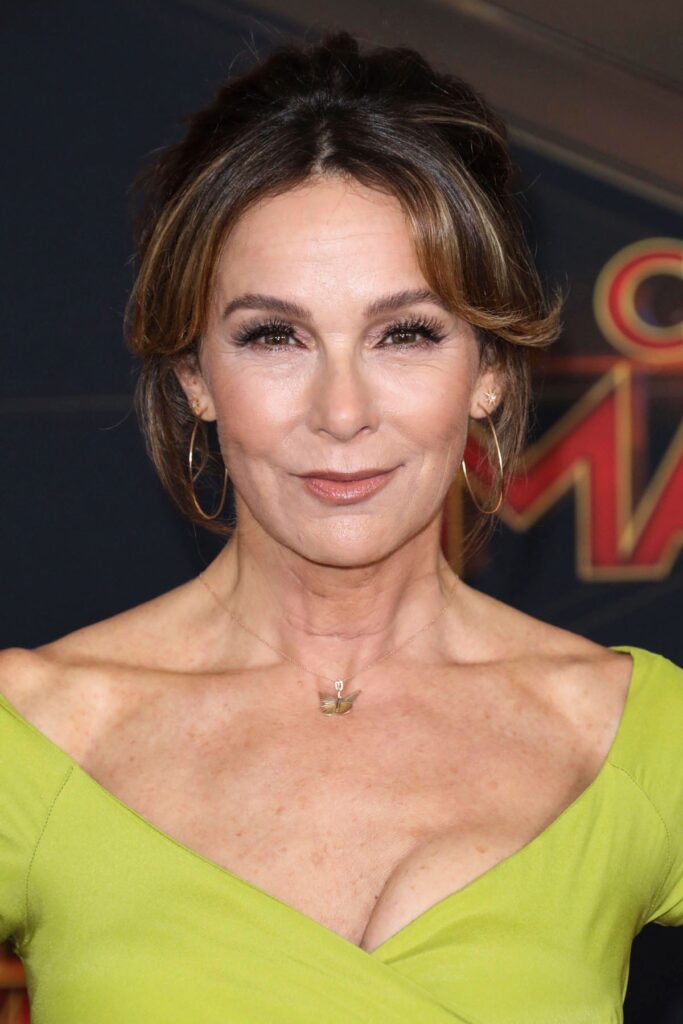 Jennifer Grey has a memoir coming out called Out of the Corner. The title is a nod to arguably the most famous line from her film Dirty Dancing, "Nobody put Baby in the Corner." That's cute. Jennifer has had a very interesting life. Her parents are famous, notably her father being Oscar winner Joel Grey. Apparently, Jennifer hung out with Andy Warhol and the gang at The Factory as a teen. And although she attended 'regular' high school, she was just biding her time until she could get back to the business. She had to grow up pretty fast. Her memoir sounds interesting and self reflective. She discusses her romances with Matthew Broderick and Johnny Depp and making Dirty Dancing with Patrick Swayze. In a recent People interview it's obvious how much reflection Jennifer has done. So it makes sense that she would see this, her second half of life, as her best, because it's the most honest.
On her double life at 16: Yes, there was lots of drugs and drinking. All the time. I had a boyfriend, we were out at clubs at night. I would change at his house and go to school. I was living a double life. I am like just trying to get through the high school years so that I can get on with my life because I am not dating guys my age. I am not interested… I never dated a teenager in my life. I don't think I ever even kissed a teenager.

The good girl who is not allowed to be anything but perfect, so she's got to hide this whole other experience, which is really individuating. It's like natural to being too close to your parents and too good and too… You know? I didn't hate them. I love them. Because they were so fucking cool. But they were also controlling. Just perfectionism. There was a perfectionism and expected perfectionism. The standards were high. Everyone around me was very successful. That was a lot of pressure.

On the second half of her life: I believe in my heart that the second half of a woman's life is the best half. I can't speak to a man as I've never been one, but I will tell you that my experience is the second half is the best half. I'm sure of it. I've never felt what I'm feeling these days. It gets disrupted by doing press, by getting hair and makeup done, getting glam and styled. (It's not like doing press in the '80s though!) But it turns out I like to write. I like to have a little control. I like to just be right sized. It just feels peaceful, It's not doing the press of the '80s.

On a Dirty Dancing sequel: It was lightning in a bottle, it's like this thing happened, and it's so beautiful, and I can't explain it. No one can explain it. We're working on this sequel, I'm working on it with Lionsgate and working on the script. We've been working on it for a couple of years. And I know in my heart, I would love to give fans or a young, new audience an experience that would never replicate that, but has the same kind of underpinnings. Today people think that their identity is limited, the world has told them what it is. But there are certain people who can see other parts of you. Dirty Dancing was a fairy tale, a successful movie and formula, using dance as a metaphor for embodying your energy and getting out of your head, and your limiting belief systems.
[From People]
Jennifer divorced her husband, Clark Gregg, in 2020. They'd been married for 19 years. It sounds like she's been operating as an adult much longer than most people as well as never being on her own. This is probably the first time she's been able to sit back, breathe and move to her own music. I agree to an extent that this second half of life is great. Except that I, a non-famous person, am finally confident enough to speak up and feel like I have something to say, but am at an age that no one is listening anymore. But, I agree with Jennifer that women have confidence at this age and live more authentically.
Jennifer spoke a lot about her nose and the decision to get two nose jobs. She corrected the story that Hollywood shunned her after the procedure, saying she did it to herself. Apparently keeping her nose had been very important to her and everyone had opinions on her 'fixing' it. She also retold the story of her and Patrick. I'd always heard they met on Red Dawn and hated each other. Then met again on Dirty Dancing and became very good friends. But in this interview, she said they never meshed that well. She reflects on him fondly, but doesn't pretend it was more than it was. Jennifer clears the air on a lot of her past, and, as I mentioned, she's processed much of it and made peace with it. If she means that the second half of our lives is the authentic half, then absolutely that's the best half.
Embed from Getty Images
Embed from Getty Images
https://www.instagram.com/p/Cb6WEA8LPTh/
Photo credit: Instagram, Avalon Red, and Getty Images
Source: Read Full Article