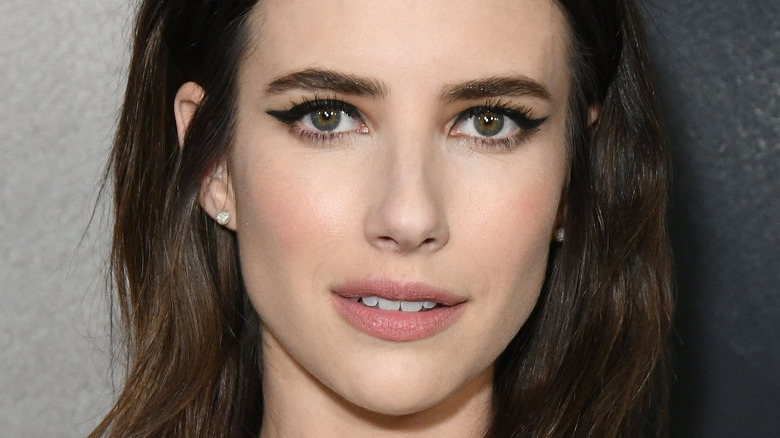 Emma Roberts is a household name in the entertainment industry, and not just because she's the niece of America's sweetheart, Julia Roberts. The actress first burst into the film business with a guest-starring role on "Drake & Josh," as well as a few other movies like "Blow" and "Grand Champion" (via IMDb). From there, she starred on Nickelodeon's "Unfabulous," and of course, went on to truly make a name for herself with starring roles in "American Horror Story," "It's Kind of a Funny Story," "Scream Queens," and more.
Not only is Roberts known for her acting chops, the "AHS" star has been making headlines for her high-profile relationships since the late 2000s, and has dated celebs like Alex Pettyfer, Chord Overstreet, and of course, her "American Horror Story" co-star and "One Tree Hill" alum Evan Peters.
In an interview with Cosmopolitan ahead of turning 30 years old, Roberts reflected on all of the trials and tribulations of her headline-making love life, telling the outlet (via People), "At 16, I thought, 'By the time I'm 24, I'll be married with kids. And then I was 24 and I was like, 'Remember when I said I would be married with kids by now?'" And while Roberts has now settled down with "On The Road" actor Garrett Hedlund, it was quite the journey getting to her happily ever after, as evidenced by her complex dating history, which is explained below.
Emma and Alex dated in 2008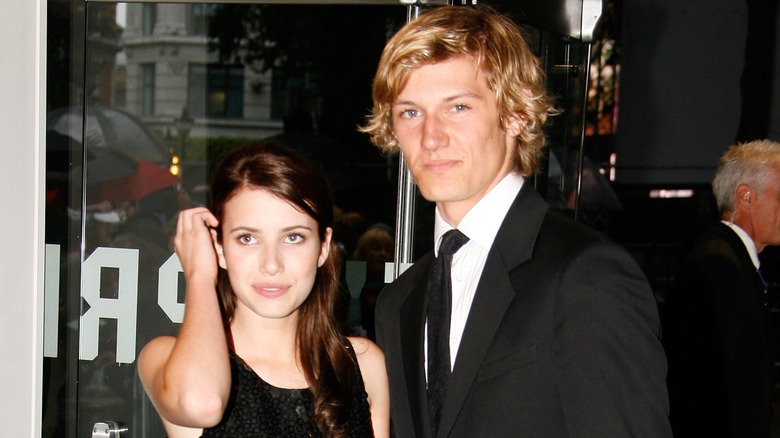 Emma Roberts started gaining notoriety in the acting world after appearing on Nickelodeon's "Unfabulous" from 2004 to 2007 (via IMDb). 
Around the time the beloved teen comedy series ended, Roberts appeared in movies like "Aquamarine," "Nancy Drew," and "Hotel for Dogs," before starring in 2008's "Wild Child," where she met hunky blonde actor Alex Pettyfer and began her first of many high-profile relationships.
Per Us Weekly, the pair dated for about a year, and although the actors were young at the time, it seems like Pettyfer and Roberts were really serious, considering the "Beastly" star reportedly got Roberts' name tattooed on that finger to prove his love and loyalty to the "American Horror Story" star. "I got a girl's name tattooed on my ring finger because I was in love," Pettyfer revealed to Glamour U.K. in 2010. "We've broken up, but I don't live in regret."
She had a few flings before hooking up with this Glee star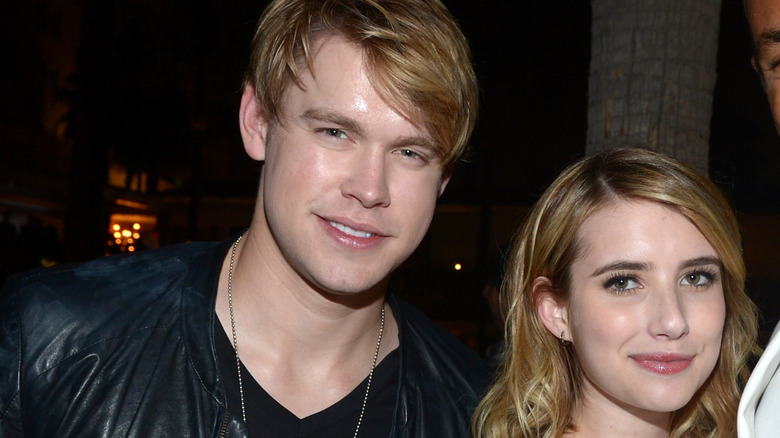 After splitting with Alex Pettyfer, Emma Roberts was linked to pro skateboarder and star of MTV's "Life of Ryan," Ryan Sheckler, in 2009 (via Us Weekly). The same year, the "We're the Millers" alum started dating UCLA student Dathan Kuppin and their relationship lasted about two years before the couple called it quits in 2011.
Shortly after her split with Kuppin, Roberts was linked to "Glee" star Chord Overstreet after being spotted at Coachella together in April 2011. The pair split in January 2012; however, in April that year, Roberts and Overstreet decided to give their relationship another go. "They are back together," a source told E! News at the time. "Ultimately they enjoy spending time together and they wanted to give it another shot. They make each other laugh and they are both very supportive of one another's successes."
A little over a month after rekindling their romance, a source told Star Magazine that the pair had finally split for good, telling the outlet, "They're done. The last few weeks have been really rough" (via Daily Mail). "They posed for pictures. After that, the two were on opposite sides of the VIP section," the source added, referring to the couple attending the Nylon Young Hollywood party together a few weeks prior. "It's a really immature relationship. All they did was fight.'
Emma and Evan had a tumultuous relationship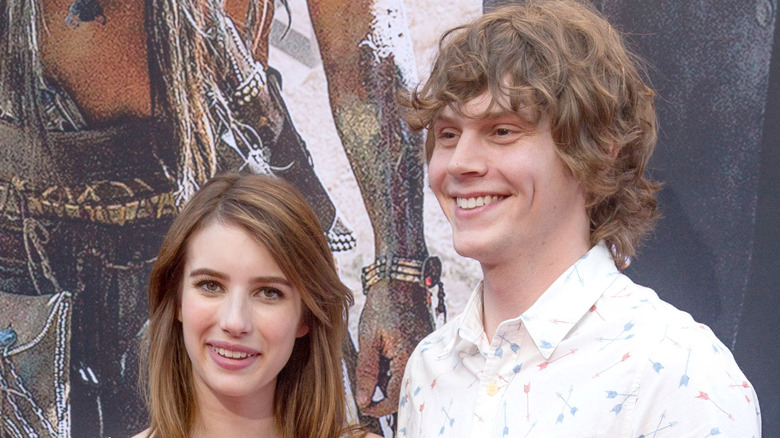 Evan Peters and Emma Roberts started their years-long, on-and-off relationship after meeting on the set of "Adult World" in 2012; however, the pair didn't actually start dating until filming wrapped. "Everyone thought we dated on the movie and we didn't — not for a long time after," she revealed to late night talk show host Chelsea Handler on an episode of "Chelsea Lately" (via PopSugar). "I actually, on the set, was like, 'Oh yeah, we're totally gonna date.' And I would, like, flirt with him, which ended up looking like I had something in my eye because I'd be like, 'Hey, what's up?' And he literally didn't speak to me the entire movie. He thought I was so weird."
In 2013, Roberts made headlines after she attacked Peters in a Montreal hotel and was arrested for domestic violence, signaling the couple's first of many bumps in their roller coaster relationship. "It was an unfortunate incident and misunderstanding," a joint statement from their reps read at the time (via People). "Ms. Roberts was released after questioning and the couple are working together to move past it."
The pair were even engaged in 2014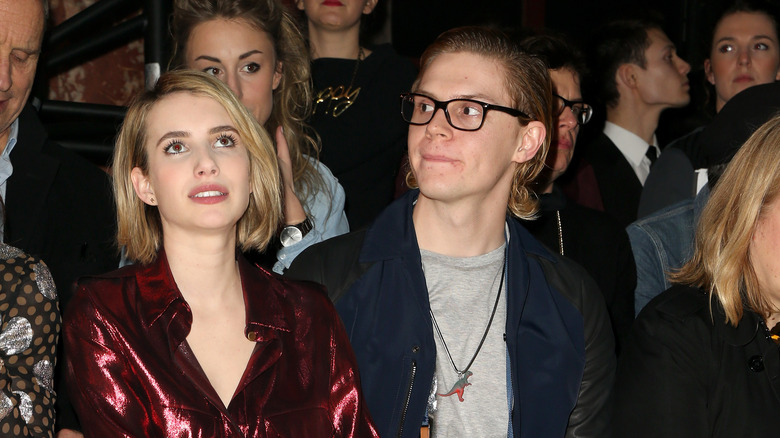 In January 2014, Evan Peters proposed to Emma Roberts, however, the pair called off their engagement in June 2015. "They grew apart," a source dished to People at the time. "They both had a lot of growing to do and it was better that they do it on their own."
Another source opened up to Just Jared about the couple's split, telling the outlet, "Their three years together just ran its course. They have so many great memories together but couldn't make it work in the end. The breakup was amicable — there was no drama whatsoever. Emma and Evan are even still friends!"
Just three months after calling their engagement off, the "American Horror Story" co-stars were spotted holding hands, and a source told E! News that the pair were "seeing each other again." In May 2016, the couple split yet again, and Evans reportedly deleted all traces of Roberts on his Instagram (via PopSugar), although multiple sources told Us Weekly at the time that their split was "amicable."
Emma dated Christopher after her second split with Evan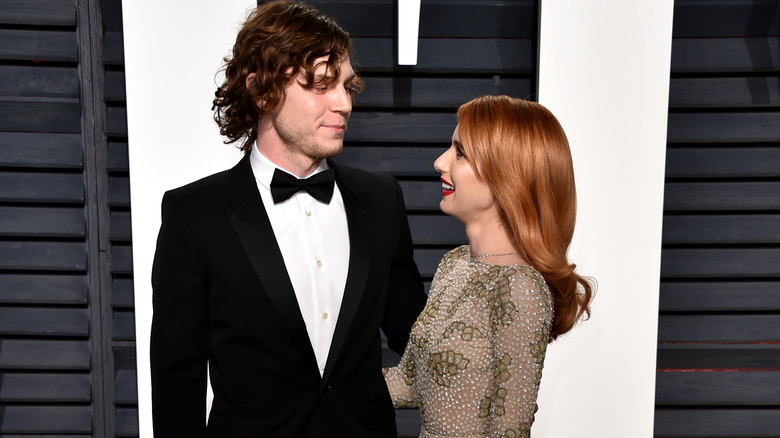 Just one month after splitting with Evan Peters for the second time, Emma Roberts was linked to a director named Christopher Hines, who she was introduced to via their mutual friend, fashion designer Brit Elkin (via PopSugar). "Chris is one of the most understanding and laid-back guys," an insider revealed to Us Weekly at the time. "They've been dating for a little under a month."
Hines and Roberts were photographed together on numerous occasions and judging by the pics, the two weren't afraid of engaging in too much PDA, as they were holding hands and canoodling every time they were photographed together. However, their relationship was short-lived, as the couple called it quits a few months after first getting together. 
The reason for the split? Roberts and Evans couldn't stay away from one another, and the "AHS" co-stars decided to give their relationship another shot in September 2016 (via Us Weekly).
Evan and Emma rekindled their relationship… again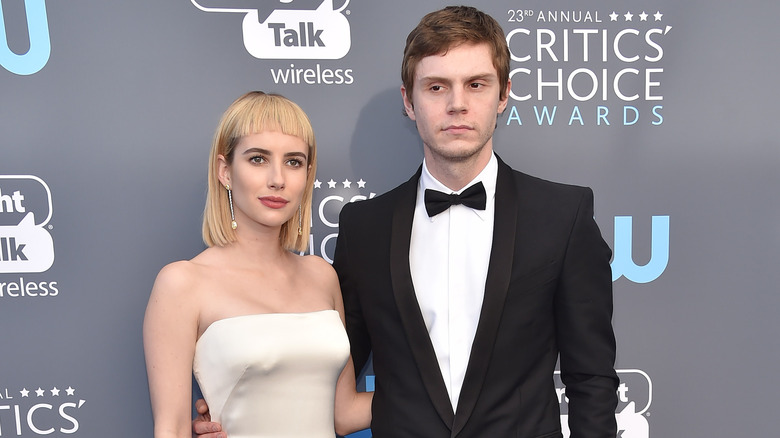 The adorable lovebirds just couldn't stay away from one another, could they? After taking yet another short-lived break, Emma Roberts and Evan Peters rekindled their roller coaster romance in September 2016 after Roberts split with director Christopher Hines. 
Roberts and Peters got re-engaged in November that year, according to an insider who gave Us Weekly the inside scoop about the on-again, off-again couple. "Emma and Evan are engaged again," the source revealed. "She's been wearing her ring on set. Everyone on set knows."
However, in 2017, the pair made headlines yet again after Roberts allegedly was involved in an inappropriate relationship with her "Little Italy" co-star, Hayden Christensen, who was in a decade-long relationship with "Hart of Dixie" star Rachel Bilson at the time (via The Blast). Bilson reportedly found text messages from Roberts on Christensen's phone, and ended their relationship shortly after.
Emma and Evan finally called it quits for one last time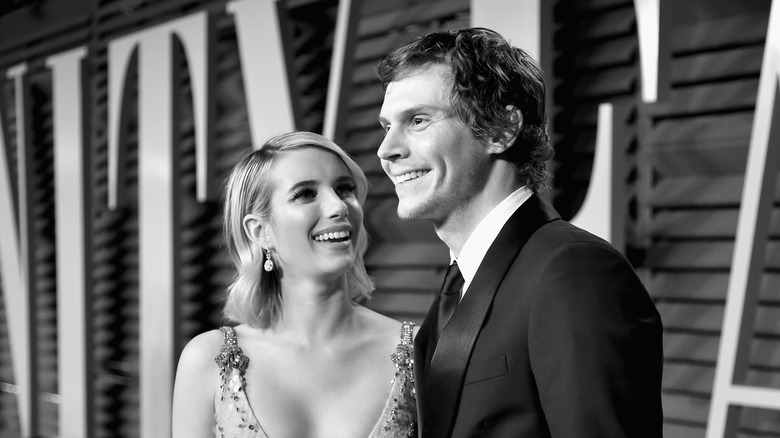 Emma Roberts and Evan Peters stayed together after the "Scream Queens" star's scandal, however, the pair ultimately called it quits in early 2019. "Emma and Evan were heading for a split and now are just friends," one source told Us Weekly, adding, "Evan has moved out. It wasn't a bad breakup."
Although it was initially reported that the couple's split was amicable, another source told the outlet in October that their relationship was extremely toxic. "Evan was so in love with Emma and their relationship became very toxic," the source dished. "They had the highest highs and then would not speak for days. He took a long time of figuring himself out again before he was ready to date."
Peters then moved on with singer Halsey in September of 2019, and Roberts quickly moved on shortly after their final split, sparking romance rumors with "Country Strong" actor Garrett Hedlund the same month she and Evans ended their relationship.
Emma got together with this actor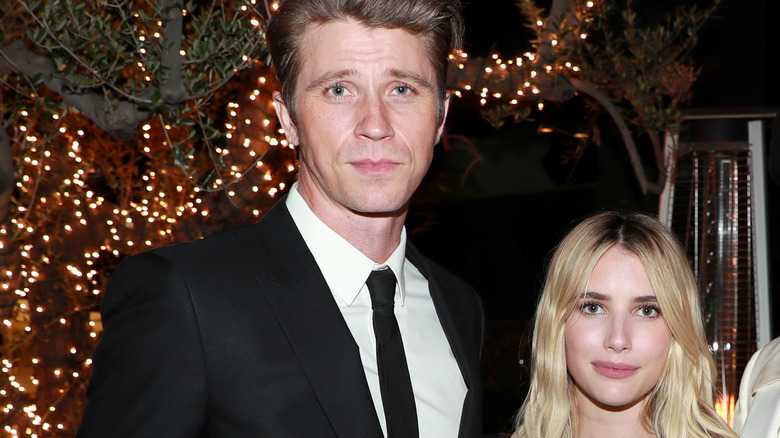 In March 2019, Emma Roberts and Garrett Hedlund fueled romance rumors after they were spotted walking arm-in-arm in the Los Angeles hipster neighborhood of Silver Lake. "[Garrett] had his arm around [her] for a bit and then they were holding hands," a source shared with Us Weekly. "Garrett and Emma have been friends, but this is new, casual, and just a couple of weeks old."
In August 2020, Roberts took to Instagram to share some exciting news, confirming that she and Hedlund were expecting their first child together after rumors of her pregnancy began to make headlines in June (via Us Weekly). "Garrett thinks Emma is amazing. They will be great parents," an insider told People, adding that the couple were "very serious" and "beyond excited to be having a boy."
Roberts gave birth to a beautiful baby boy, who they named Rhodes Robert Hedlund, in December 2020. "Having a newborn in the pandemic has been a lot harder than either of them expected, but they're really, really trying their best to figure things out," a source told People. "Garrett totally stepped it up after Emma was still recovering after giving birth. He made sure that their house was stocked with things that Emma liked and needed so she felt comfortable. She's just starting to get back into a more 'normal' routine."
Source: Read Full Article