Ree Drummond enjoys finger foods during the holidays. The Pioneer Woman demonstrated how to make some of her favorite Christmas bites. Read on to learn more about her delicious holiday treats.
Ree Drummond's mini peppermint rolls  
Drummond makes her peppermint rolls by combining melted butter with sugar, a splash of vanilla, and a splash of peppermint extract. She likes this recipe because it's very simple to make. Drummond simplifies the recipe by using store-bought dough. This recipe shortcut reduces the amount of time she spends in the kitchen.
"The great thing about this recipe is it's incredibly simple because I did not make the dough from scratch," says Drummond on The Pioneer Woman show. "I am using none other than crescent roll dough that is sold in a tube in the grocery store. There's nothing fancy about it, and it's just going to result in this really delicious little treat that you can serve for brunch." You can find the complete ingredients list and directions here.
Ree Drummond's crispy cauliflower cakes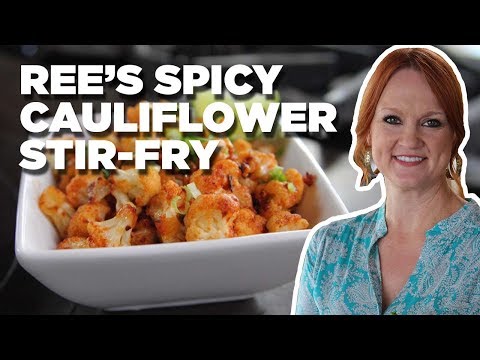 Drummond describes this meal as "little cauliflower fritters with a delicious, zesty, yogurt sauce on top." She says they're great for cocktail parties. These little bites are the perfect appetizer for a holiday party.
Drummond starts by adding a beaten egg to a bowl of riced cauliflower. She says you can buy riced cauliflower frozen or in the fresh produce section. "This is really widely available now, which is great because it's such an awesome ingredient," says Drummond on The Pioneer Woman show.
If you can't find riced cauliflower, Drummond says all you have to do is purchase a head of cauliflower from the supermarket, put it in a food processor, and "pulse it until it's completely broken up." She describes cauliflower as a "magical" ingredient. You can find the complete ingredients list and instructions here. If you prefer stir fry, try Drummond's spicy cauliflower stir fry. Directions are in the video above.
Ree Drummond's steak bites with spicy blue cheese cream
These steak bites are popular in the Drummond household. The Accidental Country Girl says they're "Ladd Drummond approved." Ladd is a big fan of meat and potatoes, so steak bites are one of his favorite meals. She says it doesn't get more Ladd friendly than steak bites. Drummond declares her recipe is so good that it will "change the way you feel about steak bites."
Drummond starts by cooking chunks of ribeye steak. She says the fat is where the flavor comes from. However, she prefers to remove the big pieces of fat and gristle. She tosses the beef in melted butter and grill seasoning. However, she says you can use any seasoning you like.
Drummond says the secret to the perfect steak bite is to use a good cut of beef. She says beef tenderloin is a good option for this recipe. "A little bit on the pricey side, but if you really want to impress your guests, that's the trick," says Drummond on The Pioneer Woman show. You can find the complete ingredients list and instructions here.
RELATED: 'The Pioneer Woman' Ree Drummond Ice Cream Pie With Easy Caramel Sauce Will Soothe Your Sweet Tooth
Follow Sheiresa Ngo on Twitter.
Source: Read Full Article