As a longtime friend and former personal lawyer to Donald Trump, Rudy Giuliani has been involved in the controversial politician's rise and fall as one of the most outspoken presidents in U.S. history. Giuliani came to the ex-commander-in-chief's defense on countless occasions in the past, but similar to other former allies, it wasn't unusual for Trump to regularly insult the former mayor of New York City. Despite Giuliani giving the 45th president his undying support (even after Trump was impeached for a second time, as The New York Times reported), the "Apprentice" alum is said to have looked at Giuliani as a "weak" and "pathetic" person.
As Wall Street Journal reporter Michael Bender detailed in his new book, "Frankly, We Did Win This Election: The Inside Story of How Trump Lost," the TV-personality-turned-leader mocked Giuliani for falling asleep during meetings and heavily criticized him over public appearances. According to the book, which was released in July 2021, Trump told his confidante he "sucked" after Giuliani defended him during a TV interview. 
Regardless of Trump's backlash, "Rudy never wanted to be left out," Bender wrote, according to an excerpt obtained by the Daily Mail. "If you were ever between Rudy and the president, look out. You were going to get trampled." Though Giuliani no longer works for Trump — as he was ousted as his personal attorney in February 2021, per CNN – it seems Trump isn't done talking about Giuliani. To find out Trump's latest feelings on Giuliani, keep scrolling.
Donald Trump calls Rudy Giuliani the 'greatest mayor' in NYC history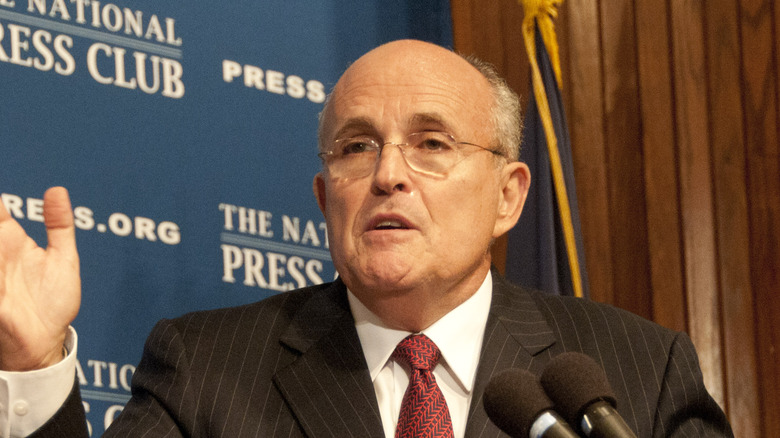 On the 20th anniversary of the September 11 terrorist attacks, Donald Trump took his focus off continuing to argue the validity of the 2020 election and instead chose to praise Rudy Giuliani for his efforts as New York City mayor. Giuliani was dubbed "America's mayor" in the aftermath of the attacks when two planes flew into the World Trade Center Twin Towers, killing almost 3,000 Americans, per CNN. Trump released a statement on September 11, calling Giuliani the "greatest Mayor in the history of New York City."
According to Yahoo News' Colin Campbell, Trump credited Giuliani for coordinating an organized response team at the site, for creating citywide anti-terrorist measures, and for restoring the infrastructure following the devastating attacks. "Congratulations to Rudy Giuliani (for the 20th time!), the greatest Mayor in the history of New York City, for having shown such leadership and doing such an incredible job during and after the attack on our Nation!" read Trump's statement.
Despite Trump's kind gesture, things don't seem too amicable between the New York native and Giuliani. Not only was the former mayor suspended from practicing law in New York and Washington, D.C. in July, per NPR, but Dominion Voting Systems — which was used during the 2020 presidential election — is suing Giuliani for $1.3 billion after he pushed Trump's claims the machines were rigged. However, The Guardian reported Trump refuses to help out with his pal's legal bills. 
Source: Read Full Article