No one is snickering after one of Snickers' latest commercials. As reported by BBC, in the famous chocolatier's 20-second spot in Spain, a long-haired man portrayed by popular Spanish blogger Aless Gibaja is featured enjoying a day at a beach bar with his friend. When the waiter comes over to take their order, the friend of is caught off-guard when Gibaja's character orders a "sexy orange juice" containing a smorgasbord of vitamins including "A, B, and C" — in a rather high-pitched voice and complete with a kiss blown to the waiter, we might add.
While both the friend of and the waiter look shocked and dismayed, Gibaja takes a bite out of his Snickers bar and is immediately transformed into a bearded man with a deep voice. At once, the friend looks relieved and asks, "Better?" to which Gibaja gives a resounding, "Better." The commercial then wraps with the brand's famous slogan, "You're not yourself when you're hungry," scrolling across the screen. And scene!
As one can imagine, the backlash was swift. Keep reading after the jump to learn what the masses had to say about the controversial advertisement.
Spain's LGBT State Federation denounced the commercial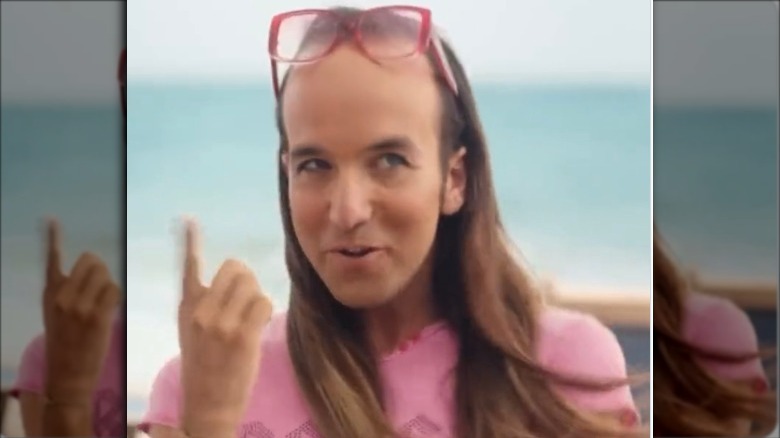 As reported by Metro Weekly, it didn't take long for people to voice their disdain for the controversial commercial. "It is shameful and regrettable that at this point there are companies that continue to perpetuate stereotypes and promote homophobia," Spain's LGBT State Federation penned in a tweet translated from Spanish, before adding, "If you need some training for next time, here we are, Snickers." 
Spain's Equality Minister Irene Montero had a few choice words for Snickers as well. After asking who thought it would be "a good idea to use homophobia as a business strategy," she went on to tweet, "Our society is diverse and tolerant. Hopefully those who have the power to make decisions about what we see and hear in commercials and TV shows will learn to be too."
Clearly, Snickers had some 'splaining to do! And that they did — well, sort of. Per BBC, Snickers took to their social media to issue a statement regarding the flub. In the statement, the company apologized for "any misunderstanding," but maintained that the aim of the campaign "was to convey in a friendly and casual way that hunger can change your character." The statement continued, "At no time has it been intended to stigmatize or offend any person or group." Later, per The Guardian, a representative of Mars Wrigley, Snickers' parent company, also issued an apology in which they "wholeheartedly" apologized and admitted they simply "got it wrong."
This isn't Snickers first rodeo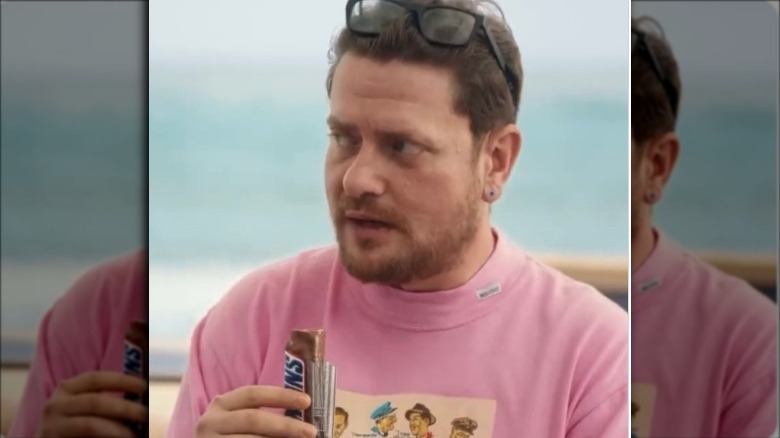 As you may recall, however, this is not the first time the candy brand has landed in hot water over a commercial. As reported by CNN Money, in February of 2007, Snickers pulled a Super Bowl ad that ruffled many feathers — including the Human Rights Campaign and the Gay & Lesbian Alliance Against Defamation, also known as GLAAD. In the 30-second ad, two male mechanics accidentally kiss one another after sharing a Snickers bar. Once they realize what they have done, one of the men shouts, "Quick. Do something manly!"
In a statement issued by GLAAD, the organization's then-president Neil Giuliano denounced the commercial stating, "That Snickers, Mars and the NFL would promote and endorse this kind of prejudice is simply inexcusable." Amidst the backlash, Snickers quickly embarked on a (half?) apology tour. "We know that humor is highly subjective and understand that some people may have found the ad offensive. Clearly that was not our intent," Snickers' maker, Masterfoods, penned in a statement. "As with all of our Snickers advertising, our goal was to capture the attention of our core Snickers consumer."
Perhaps the advertising team should sit down and have a Snickers bar of their own before concocting any more commercial ideas…
Source: Read Full Article