"Well I'm not supposed to…um…I'm not supposed to say," comedian tells Jimmy Kimmel after slipping to a German magazine
Murray did, however, tell his two "translators" sitting alongside him that he could slip the beans to them later. Despite being on a Zoom call, Murray couldn't help but do a bit, appearing on camera in bizarre leg braces and recruiting not one but two translators to translate Kimmel's questions into both German and Arabic.
"But we could talk about it when we eat dinner. I mean, unless everything's closed. You two agree on a place," the actor deadpanned.
Earlier this week, Murray was promoting Wes Anderson's "The French Dispatch" in Germany when the internet managed to translate his comments and determine what Marvel movie he was actually talking about.
"I made a Marvel movie recently. I'm probably not allowed to tell you, but whatever," he said, according to translations of the interview. "Anyways, some people were pretty surprised why I decided on a project like this, of all things. But for me the situation was completely clear: I got to know the director, and really liked him. He was witty, humble, everything you want from a director. And with the cheerleader movie 'Bring It On,' he had already made a film years ago which I think is damn good."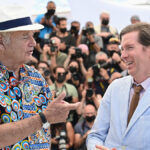 Kimmel pointed out that — if Murray's own rumors are true — this wouldn't even be his introduction to the Marvel Universe, as he previously recorded a radio piece in which he played The Human Torch. The late-night host played a clip of that recording and asked if Murray remembered the job, to which he replied, "Flame on!"
The "Ant-Man: Quantumania" news is not the only rumor that Murray let slip recently, as he also told an international publication the name of Wes Anderson's next movie: "Asteroid City."
Check out the clip of Bill Murray on "Kimmel" above.
Source: Read Full Article