Nicole Kidman and husband Keith Urban have been living in wedded bliss for over a decade now. Married in 2006 after meeting just one year prior (and now boasting two children, Sunday and Faith Urban, in addition to Kidman's grown children Connor and Isabella with ex-husband Tom Cruise), Kidman told Harper's Bazaar in 2012 that compared to her relationship with Cruise, Urban was "more like an ocean; he took me out." "He just gave me confidence," she continued at the time, "through just being very kind to me and understanding me, opening me up to trying things, my sexuality, those sorts of things… Everyone wants to feel someone's got their back."
The couple only gave fans even more insight into their sweet relationship when Kidman revealed just how much her family misses the country star when he's away. The "Big Little Lies" star posted a photo of the couple's dog on Instagram in June. Their poodle pup, Julian, gazed longingly at Urban with the caption, "Julian's reaction when he realized @KeithUrban will be away from home for a few nights when he performs in Las Vegas [sad-face emoji]."
Kidman is clearly supportive of her hubby's rocker career, but how does Urban feel about her thespian one, especially when things need to get a little… intimate for scenes? Here is Urban's take on Kidman doing love scenes.
Keith Urban minds his own business when it comes to Nicole Kidman's sex scenes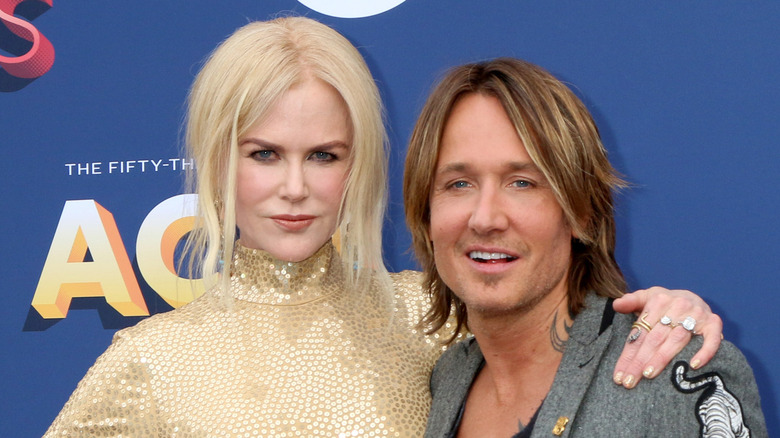 Keith Urban understands that Nicole Kidman's sex scenes are just for show. The Oscar winner, promoting her new Hulu series "Nine Perfect Strangers" on August 9 with E! News' "Daily Pop," shared, "My husband is an artist, so he understands all of it, and he also does not get involved." 
Kidman added that Urban, whose country music career is still very much thriving itself, keeps to his side of the street when it comes to Kidman's acting roles. "He sees the show at the very end when it's a show, all edited together, and he's fresh eyes," she told "Daily Pop. "He doesn't read any script, he really doesn't know what's going on on the set, he's got his own career that he's completely absorbed in." Kidman also laughed, "He doesn't know much about what I'm really doing."
Urban staying hands-free in his wife's career has worked out for the couple thus far, as he told Dax Shepard's "Armchair Expert" podcast in September 2020 the two never feel an urge to be competitive even with their respective successes. "There's so many other things that I can bring that help and blossom the family, and protect it, and take care of it and grow it, not just fiscally," Urban told Shepard. "I bring everything I can most of the time."
Nicole Kidman is no stranger to explicit love scenes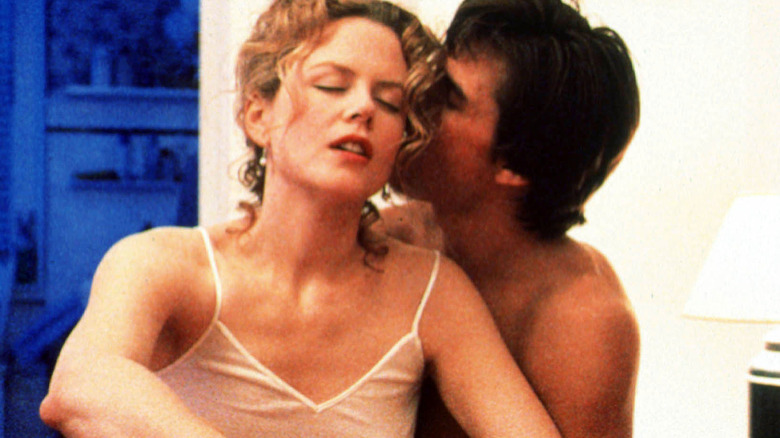 Nicole Kidman has filmed a few intimate love scenes over her award-winning, multidecade career. Given that, it's no surprise that her "Daily Pop" interview wasn't the first time the topic was raised in regards to hubby Keith Urban. 
On a 2017 episode of "The Graham Norton Show," the couple appeared together as guests as Kidman was asked about her steamy scenes with Colin Farrell in two films they did together: "The Beguiled" and "The Killing of a Sacred Deer."  Kidman responded gamely at first, noting that in the "The Beguiled," "I had to give [Farrell] a sponge bath for a day." When the host asked the actor if she found that awkward, Kidman offered the greatest of all teases. "Considering what Colin and I did in 'The Killing Of A Sacred Deer,' that was nothing." She then hilariously quipped, "My husband is on the show, can we move on with this now?"
Kidman does seem to be followed by the conversation of on-screen love scenes — particularly when it comes to her ex, Tom Cruise. After all, she and her ex-hubby were in many a scandalous scene in 1999's Stanley Kubrick thriller, "Eyes Wide Shut." As Kidman told The New York Times Magazine, after contractually agreeing that her nude scenes would obtain her approval before making it to the final cut, she "didn't say no to any of it" and considered her and Cruise's scenes "on the forefront" of graphic cinematic sex. 
Source: Read Full Article