Oscar Isaac and Timothée Chalamet developed a special connection while filming Dune. Chalamet and Zendaya's close friendship is only one of the special friendships that formed over the course of Denis Villeneuve's sci-fi epic adaptation. However, Isaac and the actor had a close bond that formed over their love for music.
Oscar Isaac plays Timothée Chalamet's dad in 'Dune'
Dune follows Paul Atreides (Chalamet), who is a young, brilliant, and gifted man. He has several destinies that tug him in multiple directions. However, his life totally turns upside down after his family moves to a desert planet called Arrakis. It holds the Spice Melange, the most valuable substance in the universe, although it also puts a target on the Atreides' backs.
Isaac plays Paul's father, Duke Leto Atreides. The father and son hold a great amount of respect for one another. However, Duke still seeks to protect his son from the dangers of the world before he feels he's ready to take those tasks on. Nevertheless, he will need every ounce of training for what's to come.
Oscar Isaac and Timothée Chalamet bonded over music while filming 'Dune'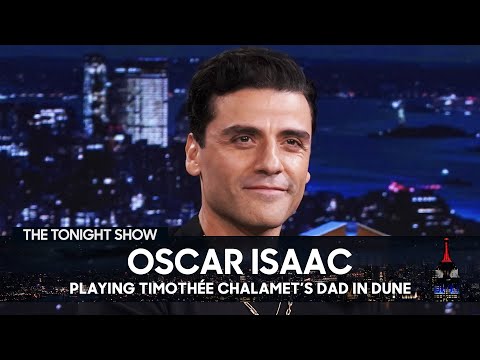 The Tonight Show Starring Jimmy Fallon brought Isaac on the show to talk about Dune, including his co-star Chalamet. Host Jimmy Fallon asked the actor about what it was like developing that father-son connection with his co-star for the sci-fi epic.
"He's my little boy," Isaac said about Chalamet. "My sweet little baby boy. I just would hold him a lot." Fallon couldn't stop laughing, as they both smiled at the actor's statement.
"He was the best because it's like I can't just be like, 'I'm your dad,'" Isaac recalled "So, he's got to treat me like that, you know? And it's that old adage from theatre school where it's like the king doesn't show the audience who the king is. It's the court that tells the audience who the king is. It's because it's how everybody else acts."
Isaac continued: "So, he immediately just went there with it. It just shows what a talented and beautiful actor he is."
Fallon asked Isaac if he played any lullabies for Chalamet, similar to what he did in real life with his own kids.  The actor explained that he actually did musically bond with his on-screen son on the set of Dune.
"We played a lot of music," Isaac said. "We did! He was playing a lot of guitar at the time, so we'd trade some songs back and forth."
Oscar Isaac plays lullabies for his own children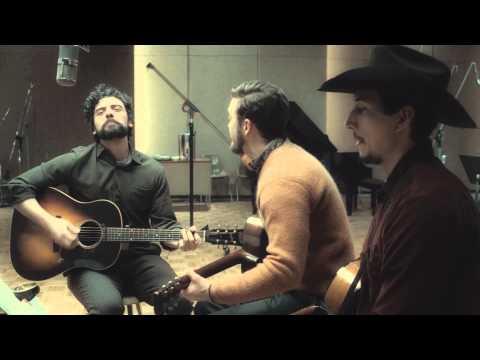 This isn't the first time that audiences have seen Isaac involved in music. He previously played the music in the Oscar-nominated film Inside Llewyn Davis.
Aside from his on-screen fatherhood of Chalamet, Isaac has two kids in real life named Eugene and Mads. In addition to the actor's talent on the silver screen, he also plays music. He spoke with Fallon on The Tonight Show about the lullabies that he played for his real children.
"I do," Isaac said about playing lullabies for his sons. "I used to. He doesn't like them anymore. He's not into it anymore. It's all that old crap, you know? Like, 'The Wheels on the Bus' and all the classics. He just wants to hear the hits."
Isaac continued: "I got a lot of originals, but he he's just not as into them. You know, 'Elephants Are Kind to People,' 'The Hippopotamus Song.' Although that one, the little guy is really into. I feel like he's coming around to it now."
Isaac delighted Fallon and the studio audience with a performance of a song that everybody enjoyed.
Source: Read Full Article