First Beyoncé surprised us with a Beychella/Homecoming Netflix documentary, then she released a teaser for her rendition of "Can You Feel the Love Tonight," and now she's blessing us yet again with brand spanking new original music. The Beyhive's cup truly runneth over, oh my Beysus!
In case you're not up to date on the latest in Beyoncé's universe, she's going to play Nala in a little movie remake called The Lion King. It's going to be a live-action movie, but despite what that sounds like, we won't be watching Beyoncé dressed as a lion and running around with Donald Glover. (Thank you, Disney, for checking our worst impulses and desires.) Along with this wonderful addition to the Disney Vault, Beyoncé is bringing out her vocals for the soundtrack, which will include a new song by her and will be written specifically for the movie.
Disney released the tracklist this week, and along with classics like "I Just Can't Wait to Be King" and "Circle of Life," there's a song that's just labeled "TBA" for now. It's suspected that this is the new Beyoncé song, and director Jon Favreau confirmed "there's a song that she performed and wrote in the spirit of the production along with working with Lebo M., who's part of it with Hans Zimmer."
He also added that Beyoncé worked with Hans and Lebo M. to come up with something that feels like her, but also fits in well with the movie. So it's safe to assume you'll want to add this to all your playlists.
Also, for anyone who thought Nala didn't get enough shine in the original movie, Jon assured everyone that there will be more of her this time around. He explained, "There's an opportunity to build upon especially the female characters of Sarabi played by Alfre Woodard and Nala played by Beyoncé that the stage play explores further."
The movie comes out on July 19 and the soundtrack hits streaming platforms on July 11.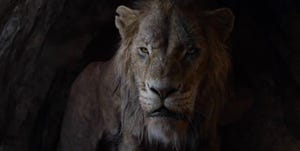 Source: Read Full Article