She isn't called Queen Bey for nothing. Beyoncé always hits the high notes when it comes to fashion, setting trends us mere mortals often try to emulate. Cast your minds back to 2015 when an iridescent Beyoncé made quite the Met Gala entrance, arriving fashionably late (the only way) in Givenchy couture, per Stylist. The Grammy winner illuminated the Metropolitan Museum of Art's red steps wearing the intricately-detailed, gold sheer gown, which she paired with simple accessories and a cascading blonde ponytail.
While critics were reportedly divided on the look, Twitter went into meltdown after Bey appeared (per Vanity Fair) with headlines honing in on her seductive ensemble. Elle wrote, "Beyoncé Out Nakeds Everyone at the Met Gala," while the Washington Post said, "Beyoncé got what she wanted. She made us look," and Time called her "The Queen of Sheer." And she certainly is. Beyoncé fans may remember just a year earlier the singer showed off some skin at the Grammys wearing a dazzling sheer white Michael Costello dress.
Her Met Gala look may be more memorable, but we're calling it — her 2014 Grammys outfit set a skin-showing precedent for celebs, fans and fashion aficionados.
Beyoncé stole the fashion show at the 2014 Grammys despite not walking the red carpet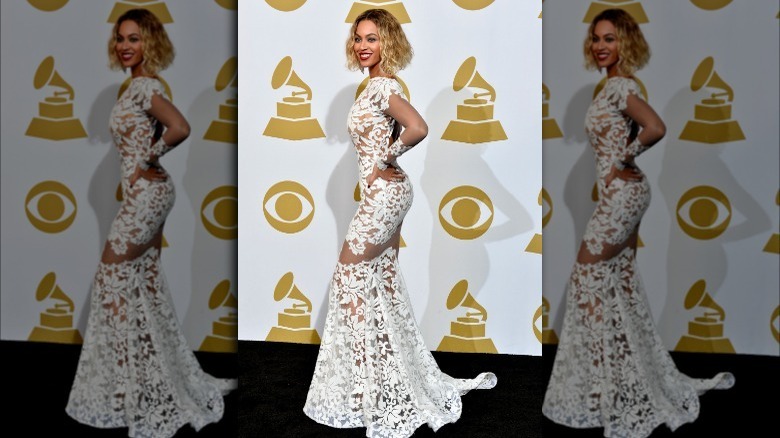 Beyoncé's looks may have changed over time, but the singer has always been comfortable in her own skin, sporting mini skirts during her Destiny's Child days to showing off sheer numbers as a mom. Unlike some celebs, however, Beyoncé's outfits never go beyond the shock radar — making it all the more sexy. But it wasn't until Beyoncé stepped out in a backless floral lace gown at the 2014 Grammys that people realized getting a little naked can still look classy. 
Designer Michael Costello felt as if he "won a Grammy" when he saw Beyoncé wear his dress, per the Los Angeles Times. Despite discussions with her stylist, the "Project Runway" alum didn't expect Beyoncé to actually don his design. "It's one thing when you dress somebody who's an A-list celebrity, but it's a completely different thing when you're such a huge fan." Costello told InStyle Beyoncé was after something "naked" — and clearly she came to the right person, as he told The Hollywood Reporter he loves "nakedness." "I wanted to create something that looked like the flowers were just falling, magically placed there in those spots. When you wear these, you have to be somewhat of a risk-taker — they're not for everyone."
And as Beyoncé never plays it safe, she was the right person. She even paired the dress with a "short hair, don't care" bob and $10 million worth of Lorraine Schwartz diamonds, per Us Weekly, because, well, she's Queen Bey.
Source: Read Full Article