You would have never known it, but Foo Fighters' Taylor Hawkins had terrible stage fright. Many performers get it, even some of the best. Hawkins loved playing music, but as soon as Foo Fighters planned a big show, he started to get very nervous. In fact, he dreaded the first Foo Fighters show post-lockdown.
The drummer started performing with Alanis Morissette in 1995 and then joined Foo Fighters in 1997
In 1995, Hawkins auditioned to be Alanis Morissette's touring drummer. He got the gig and then set out on an 18-month tour supporting Jagged Little Pill.
"It was so much fun," Hawkins told Kerrang. "She gave me a lot of space to do what I wanted. It was probably the biggest album of the year, and there was a lot of pressure on her. She was having to learn to be this leader on the job, which isn't easy. But it was really one of the most fun times of my life."
However, fate threw a spanner into the mix. Hawkins met Grohl, and the way Foo Fighters' frontman explains it, that experience felt like meeting a long-lost brother.
Hawkins told NME, "When we met, we just thought, 'We're brothers from another mother!' It was instantaneous – so much so that Alanis Morrisette just said 'What are you going to do when Dave asks you to be the drummer in the Foo Fighters?'"
Then, suddenly in 1997, Foo Fighters' drummer left. Then, Hawkins faced a dilemma. Would he stay with Morissette, who helped kick start his career, or be Foo Fighters' drummer and truly melt some faces like he always wanted? Hawkins called Grohl and auditioned. After three seconds of playing, Grohl knew he wanted Hawkins in the band.
However, despite all of Hawkins' experience, he always had stage fright.
Hawkins had terrible stage fright
Hawkins' last in-person interview with RolIing Stone in 2021 revealed that he had serious stage fright, despite over 25 years of performing experience under his belt.
Rolling Stone asked Hawkins how he felt about Foo Fighters' upcoming show. He replied, "I'm really nervous about tonight, because we haven't done anything. I'm hoping we're OK. Still having a hard time playing certain songs again."
That surprised Rolling Stone. "Oh, yeah," Hawkins said. "I have major stage fright, major, major, major."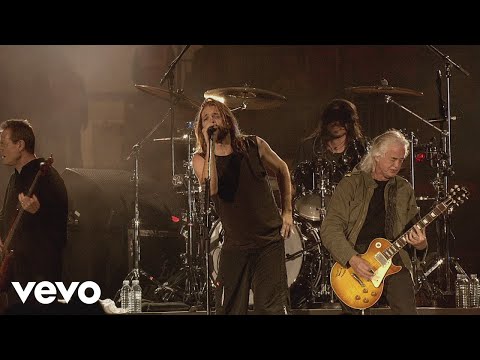 Hawkins had bad stage fright before Foo Fighters' first performance post-lockdown
In his interview with Rolling Stone, Hawkins said he was scared about Foo Fighters' upcoming performance, their first post-lockdown.
"Like today is, like, I'm in hell right now," Hawkins said before explaining that he loved having a rest from that feeling during the pandemic. "The last year and a half, other than watching the world crumble on the news, I've been on the road for 28 years.
"So I say this with a heavy heart, for the rest of people that f***ing.… And I was glad I could keep people, help my family and everyone, make sure everyone was OK. That's been such a f***ing blessing. But I've been on the road 28 years, literally, so I had a year and a half off from this feeling I have today."
Rolling Stone pointed out, "Eddie Van Halen said a lot of his substance abuse was because of performance anxiety." Hawkins replied, "Oh, because he was f***ing scared, dude. Scared. Just scared. I'm still, I'm just not having a good day. I feel like everything in my body is wrong.
"My leg doesn't feel right and all that kind of s***. Like all these kind of crazy psychosis kind of things that you go through to get yourself prepped enough just to play a little club show.
"I was feeling nice not doing anything. It's nice being a loser for a year and a half; it really was."
In the wake of his death, fans worldwide have revisited some of the drummer's best performances, and he had many. Hawkins might have had stage fright, but he was always in top form during every performance. Fans will miss him and his expert drumming.
Source: Read Full Article