Dubbed the 'Oscars of the East Coast,' and the 'Super Bowl of fashion,' the Met Gala is the single most important even in the realm of fashion, taking place every year on the first Monday of May. Founded in 1948, this fashion gala was introduced as a catalyst to raise money for the Costume Institute at the Metropolitan Museum Of Arts in New York City.
RELATED: 10 Celebs Who Got The Dress Code At The 2018 Met Gala (And 10 Who Didn't)
Each year, an elite group of celebrities and fashionistas handpicked by Vogue's very own, Anna Wintour, are invited to the Met Gala in order to celebrate the inauguration of the Costume Institute's annual fashion exhibit. Guests are expected to draw inspiration from the Costume Institute's new theme while styling themselves for the red carpet. This tradition has allowed for some of fashion's biggest triumphs and fails over the past few decades, with celebrities breaking all barriers and letting their wild side shine through their red carpet gowns each year at the Met Gala. Scroll below to see our list of the top 10 wildest outfits in the history of the Met Gala.
Click the button below to start this article in quick view
10

Cher | 1974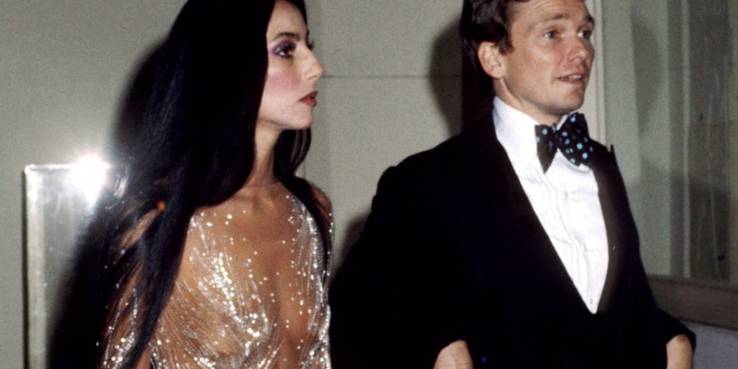 Madonna's and Kendall Jenner's revealing dresses in 2016 and 2017, respectively, may have made all of the headlines, but this risqué trend began with Cher's iconic look on the 1974 Met Gala red carpet that illustrated the theme 'Romantic and Glamorous Hollywood Design.'
Designed by Bob Mackie, Cher's gown was beautifully bedazzled and featured lush white feathers at the hemline and the end of her sleeves.
9

Liv Tyler & Stella McCartney | 1999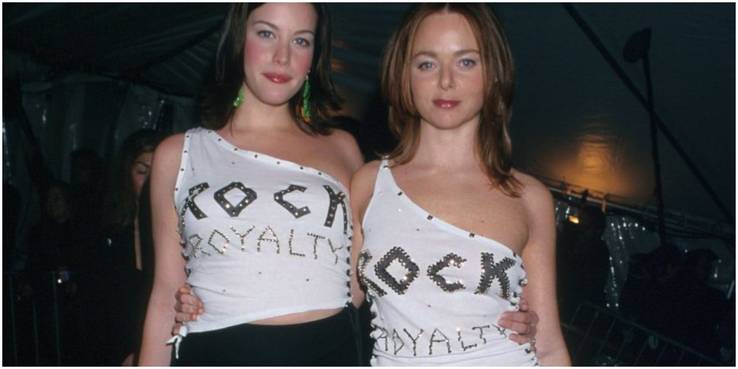 Liv Tyler and designer Stella McCartney took the 'Rock Style' theme literally for 1999's Met Gala when they decided to be totally rock and roll in their bedazzled one-shoulder tank tops that read 'Rock Royalty' on the front. There might be nothing grand or wild about white tank tops, but on the red carpet of the Met Gala, they definitely turned some heads.
8

Kim Kardashian West | 2013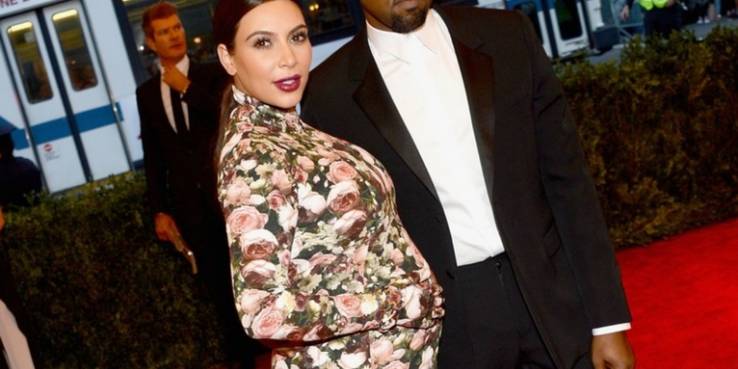 Kim Kardashian West was finally invited to the Met Gala in 2013, and quickly started an Internet meme frenzy with her floral ensemble. Designed by Riccardo Tisci of Givenchy, her gown was equated to a grandmother's couch, with several memes showcasing images of an old floral sofa with Kim's head popping out.
RELATED: 10 Most Expensive Outfits Worn By Kim Kardashian
On Twitter, Kim later admitted that she considers her Meta Gala outfit to be one of her favorite outfits of all time. She was incredibly insecure throughout the night.
7

Rihanna | 2015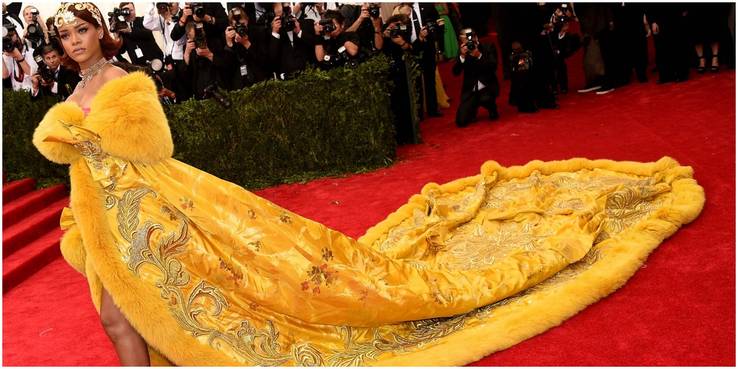 Rihanna's 2015 Met Gala gown broke the Internet with thousands of memes flooding in across all social media platforms. The memes drew comparisons to the long trail of Rihanna's gown with the yellow brick road in The Wizard Of Oz, scrambled eggs and a giant pizza crust.
RELATED: Rihanna's Net Worth
Adhering to the 2015 Met theme, 'China: Through The Looking Glass,' Rihanna's fur-trimmed gown was designed by the Chinese designer, Guo Pei, weighed 55 lbs and took 20 months to create!
6

Priyanka Chopra Jonas | 2017
Priyanka Chopra's 2017 Met Gala experience bore the inauguration of many things. It was the first time she was invited to the Gala, the first time she walked the red carpet with now-husband Nick Jonas, and the first time the world gasped in amazement at the dazzling length of a trench coat.
Priyanka dressed in Ralph Lauren for the 2017 "Rei Kawakubo/Comme des Garçons: Art of the In-Between" Met Gala theme and owned the red carpet in her custom show-stopping trench coat. Her avant-garde gown required the assistance of four hands to carry as well as a bus to fit in. It was all worth it in the end though, as critics and fans from across the world fell in love with the Chopra's look.
5

Katy Perry | 2018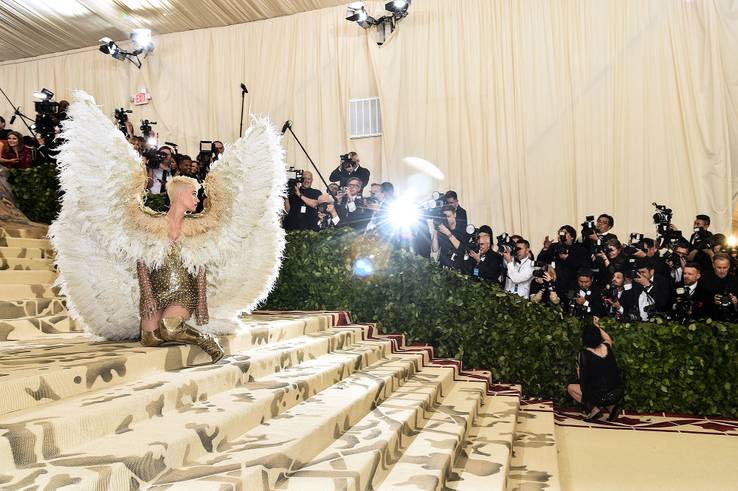 Katy Perry left everyone in awe when she showed up at the 2018 Met Gala dressed up as an angel with life-sized wings literally evoking the 'Heavenly Bodies: Fashion & The Catholic Imagination' theme. Her giant fur wings and golden ensemble were custom-made by Versace.
RELATED: Katy Perry's Net Worth
Perry stated she asked Donatella Versace to go bold with her design, and the designer clearly delivered. Even though Perry received her fair share of memes for this look, many fashion critics applauded it.
4

Sarah Jessica Parker | 2018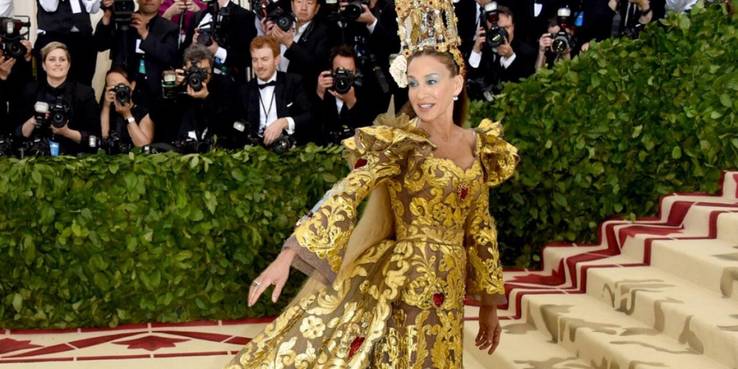 Sarah Jessica Parker is known for her wild and innovative headpieces at the Met Gala red carpet each year, and she did not disappoint in 2018. Sarah Jessica Parker wore a gold headpiece encrusted by jewels and crafted by Dolce and Gabanna. The beautiful headpiece featured the entire nativity scene in accordance with the Catholicism theme. However, her gold and ornate massive gown train may have been even more impressive.
3

Rihanna | 2018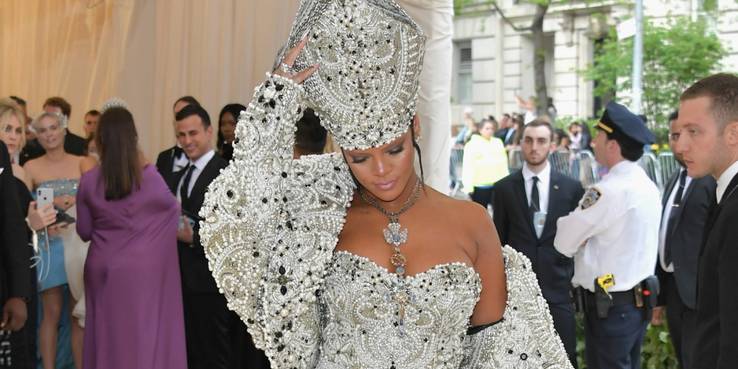 With many celebrities choosing angels as inspiration for the 2018 Met Gala theme 'Heavenly Bodies: Fashion & The Catholic Imagination,' Rihanna chose to unleash her wild side and emulate – of all people – the Pope.
Rihanna dressed in a heavily embellished Maison Margiela mini dress, a large jeweled coat, and a bejeweled headdress that emulated the Pope's Papal tiara. Her Catholic-inspired look came complete with a Cross necklace and the pop singing sensation was dubbed the new leader of the Catholic church by fans worldwide!
2

Cardi B | 2019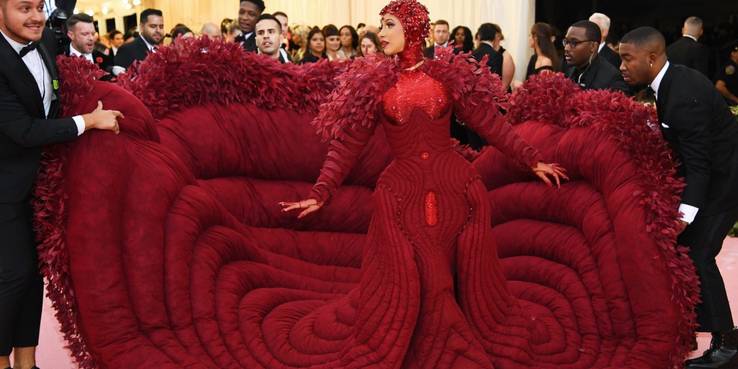 Often compared to Rihanna's 2015 Guo Pei yellow gown, Cardi B's custom oxblood Thom Browne ensemble literally stopped the pink carpet at the 2019 Met Gala. The feathers covering the shoulders took over 35 people and 3000 hours to craft to perfection while her trail swept a 3-meter long distance behind her.
In accordance with the 'Notes On Camp' theme of the Met Gala, Cardi B went all out with her matching oxblood headgear designed by Stephen Jones.
1

Lady Gaga | 2019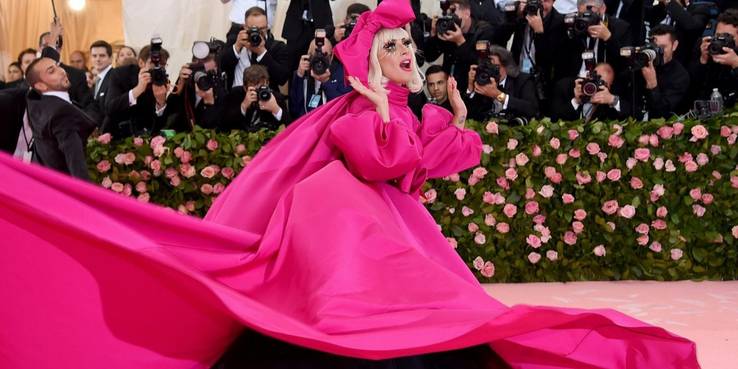 Lady Gaga may already be famous for turning heads with her renowned fashion looks, but she definitely took her wild fashion sense up a notch with her 4 individual Met Gala looks in 2019.
She first arrived in a pink Brandon Maxwell gown that had a 25-foot train and required 5 people to carry, before stripping layer by layer to reveal 3 other outfits, including a strapless black gown, a fitted pink dress, and finally sparkly black lingerie with sheer tights. Her ensemble also included an approximate and whopping $2 million worth of jewelry.
NEXT: The 10 Most Successful Boy Band Stars Of All Time
Tags:Kim Kardashian,Rihanna,Celebrities,fashion photography
Source: Read Full Article