The Below Deck crew have set up meals under waterfalls, on rocky beaches, and have carried chairs and provision up steep hills.
But, the crew from Below Deck Sailing Yacht may have met their match when they are charged with creating a dinner for the guests atop an ancient Croatian tower. Armed with bottles, furniture, and food, the crew is seen having to climb multiple levels of steep stairs on an angle. The crew even expresses a concern for how the guests will manage the staircase, proving that everyone involved will definitely get a cardio workout in the process.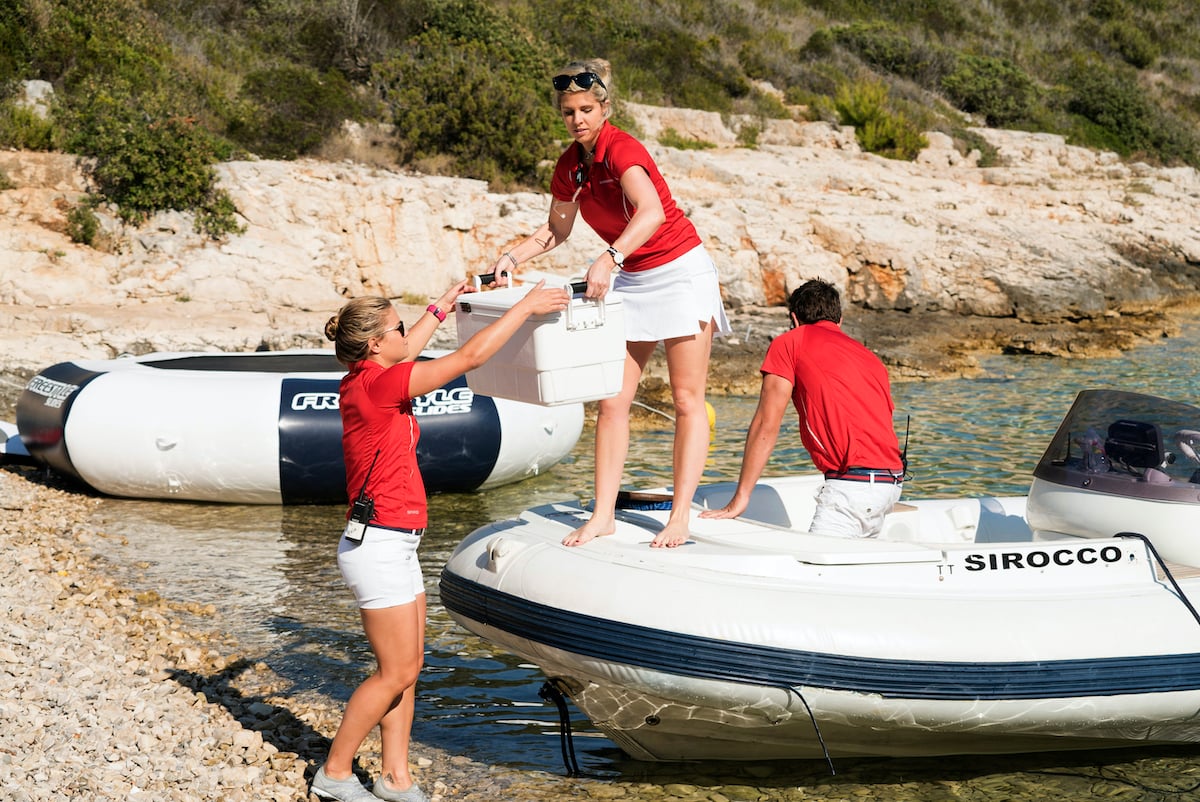 The crew gears up for the climb of their life
The crew marvels at the historic tower, called Trogir Tower, as they approach it, arms filled with provisions. "Imagine back in the day when the war was going on and running up with bow and arrows," King marvels. "People falling off there." Kelliher laughs telling King he sounds like a 5-year-old.
The crew laughs but then stops in their tracks when they arrive at the steps they need to climb in order to make it up to the top of the tower. "Holy sh*tballs," King says when he sees the stairs they need to climb. King turns his body sideways as he climbs the vertical staircase.
King advises Kelliher to climb the staircase sideways. Then he offers, "I can come down and pick that up."
Trogir Tower is as scary as it appears on the show
Kelliher is heard saying that the guests definitely should not wear heels. "Flat shoes," Shephard says. The crew arrives at the next level but then realizes there are more stairs. "I've earned my f**king food for the day," Kelliher exclaims.
Indeed, tourists have blogged about the tower, sharing how it is magnificent but challenging to climb. "One reader had dubbed the structure the 'tower of terror' and many Trip Advisor reviews warned the faint of heart of the unnerving climb," one travel blogger shared. "So, I prepared myself for the ascent, leaving anything at our apartment that might be a candidate for rappelling down the infamous stairwell's cavern. My rings stayed at home, and so did my purse."
The blogger described the climb as not only tough, but scary. "When we arrived at the 12th-century church—the sole tourists there—I asked the friendly attendant, Maria, if the climb was scary," she wrote.
"'Just the last flight of stairs,' she said. 'I have to make the climb every day to be certain no one is up there at closing time.'"
Below Deck Sailing Yacht is on Monday at 9/8c on Bravo.
Source: Read Full Article