Brandi Glanville and Tamra Judge continue their Twitter feud and things have escalated. The former Real Housewives of Beverly Hills star is calling out the current Real Housewives of Orange County star for comments she has made in the past. If you know Glanville, she fights dirty when she's attacked and she did not hold back her words for this one.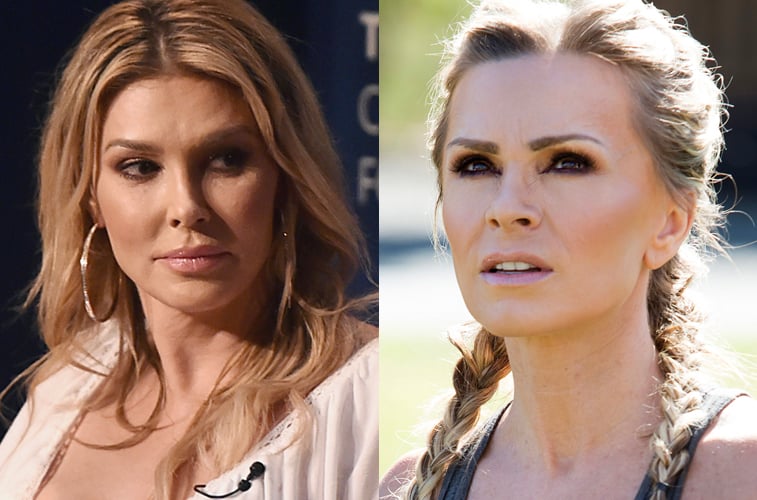 Why did Brandi Glanville and Tamra Judge start fighting?
To understand the fight between Glanville and Judge we need to rewind to last week. After a new RHOC episode aired, Glanville took to Twitter to call out the ladies for bringing up a "sex train" rumor about Kelly Dodd.
The OC ladies brought up the subject on camera without Dodd present and swore never to bring it up again. On their ride back home, microphones were able to catch Judge and Shannon Beador speaking about the issue, which led to Glanville calling them "hypocritical."
"The moment you swear to not talk about a RUMOR you may have heard within [your] group, yet you know 100% [you're] on f***ing camera, [you're] a f***ing hypocritical a**hole," she tweeted.
Brandi Glanville bashes Tamra Judge
After the tweet, Judge called Dodd the "new Brandi" due to her explosive behavior. Glanville then teased her upcoming YouTube episode where the topic was going to be the RHOC housewife.
"I have much to say on the toxic trick that is Tamra but I'm going to enjoy my holiday [weekend] first and address it on my next YouTube episode. C*NT f***ing wait," Glanville posted.
Judge replied to that tweet with the following statement: "Looks like someone needs a little attention. Who knew saying, 'Kelly is the new Brandi,' [would make her] lose her sh*t. It's not like I called her a [hypocritical] a**hole."
Glanville read her reply and wrote: "So predictable. Cowards throw a stone and then hide behind their bank accounts so you can't actually respond to them."
"Sweetie, you threw the stone," Judge then replied.
"Honey, how? Because I think [you're] meh-ssy? Babe, [you're] loud, predictable and uninteresting. It's just a fact, no stones thrown," Glanville replied again.
Judge took one last shot at Glanville saying: "You're on YouTube and the queen of messy, you can't even keep it interesting on reality tv."
The feud between Brandi Glanville and Tamra Judge continues
Glanville did not stand still while Judge took jabs at her and after calling her unstable, she fired back.
"WTF is wrong with [Tamra Judge]?" she wrote in a first of a series of tweets. "[You're] now saying I'm unstable? Both of my children love, adore and talk to me about everything. I don't think you can say the same about yours, can you? I don't know you nor do I want to."
As many RHOC fans know, the relationship between Judge and her children is rocky after her divorce. This is something Glanville knows and knew it's a sensitive topic in Judge's life.
Things didn't end there as Glanville continued her tirade, explaining to Judge the comment she made in her podcast.
"Dear [Tamra Judge], you're coming for the wrong person. Leave my name out of your f***ing mouth, I'm not on your show. I do a talk show about reality television shows. If me saying [you're] 'meh' sending you over the edge, maybe [you're] the unstable one. Get help. See you soon," Glanville continued.
The feud between the Bravolebrities seemed to have gotten really heated as Glanville took as a threat Judge's "attorney watching" hashtag in a previous tweet.
"It's funny when [Tamra Judge] threatens me with a lawyer and then publicly calls me unstable. Poor thing she's just not the sharpest tool in the shed," Glanville tweeted.
Glanville didn't stop her rant there as she took one last jab at Judge tweeting: "100% that bitch. I'm going to hang with my girlfriends because I actually have friends."
Both ladies have remained silent since Glanville's last tweet on Thursday, September 5. There's no telling what will happen next, but maybe Glanville needs to join RHOC next season?
Source: Read Full Article