In Christian fundamentalist circles, the Duggars — an Arkansas family famous for their 19 children, television presence, and numerous scandals — are practically royalty. The Duggars are perhaps the most famous family associated with the Quiverfull movement, which Gawker describes as a Christian movement which seeks to "out-reproduce" nonbelievers and "sees the quantity of children they put out into the world as a maternal mission statement." While the ethics of giving a radical religious movement such a public platform are definitely debatable, it's no secret that the Duggar family makes for entertaining — and, at times, grotesque, but always entertaining — television.
Abbie Duggar (née Burnett) is one of the most intriguing spouses to enter the Duggar family. In a short time, her dry humor, no-nonsense delivery, and kind disposition won the hearts of even the staunchest Duggar anti-fans. On the DuggarsSnark subreddit, which exists to "snark" on the Duggar family and other fundamentalists, there are entire discussions praising Abbie as the "favorite" Duggar spouse.
Abbie's a bit of an enigma. Her social media accounts are shared with John David, and there isn't much about her online. So who is Abbie Duggar, and how did she join the Duggar family? Read on to find out more about the girl behind the curly hair and cardigans.
Abbie Duggar is used to big families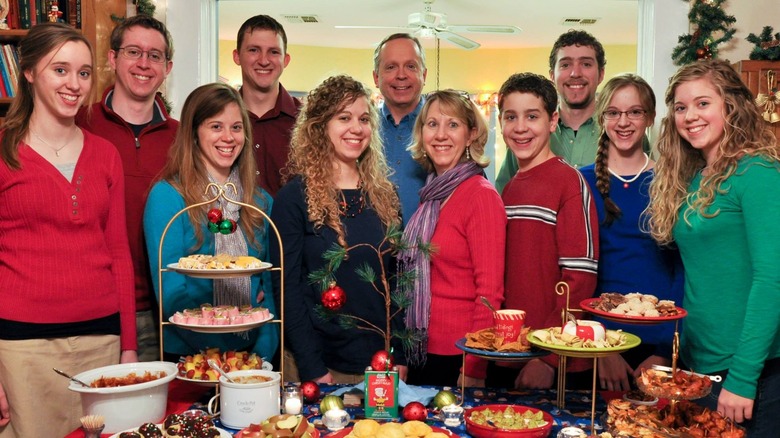 Before she donned a massive white dress on national television and completed her transformation into a Duggar princess, Abbie Duggar was Abbie Burnett, daughter of Johnny and Cheryl Burnett and sister to seven siblings. On their now-defunct personal website, 10Burnetts, Cheryl had a habit of sharing intimate details about her family of ten — and the similarities to the Duggars are striking. Sure, eight kids is a drop in the bucket compared to the 19 children in the stunningly massive Duggar brood. But by any other standard, the Burnett family is huge, and Cheryl's blog gives the impression that she rarely had time during Abbie's childhood to sit down and smell anything besides diapers and Pine-Sol — forget about roses.
On their blog, the Burnetts are seen hosting game nights, making snowmen, and building houses. You could mistake the photos for stills from a Duggar special if it weren't for the fact that some of the women in the family occasionally wear — gasp — pants. Despite this, Abbie fits right in with Jessa, Jana, and the rest of the "J" girls with her long locks and longer skirts. Abbie's low-key personality and experience with kids made her a natural choice for John David Duggar's bride.
She's close with her siblings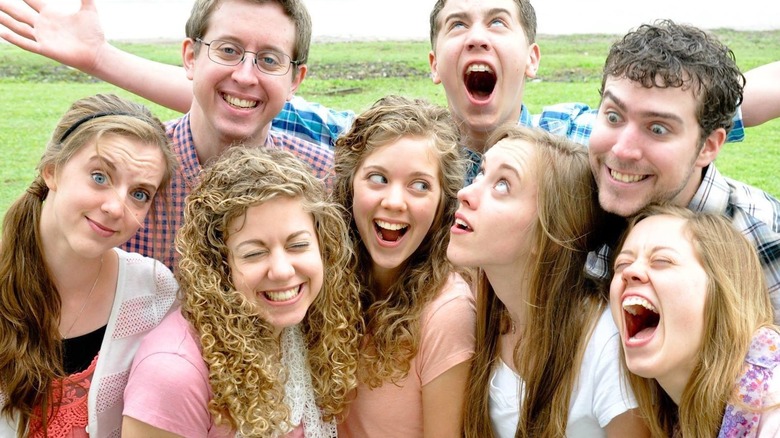 When the Burnett family blog, 10Burnetts, was still actively updated, Abbie Duggar (née Burnett) was one of the most frequent post authors. In her posts, she often shared photos of shenanigans with her siblings. One post about a road trip to Washington, D.C., portrayed the Burnett children playing basketball, sightseeing, and hanging out in a packed car — from the photos, it seems that the Burnett siblings get along better than your average group of brothers and sisters.
Abbie's brother, John-Clay Burnett, has shared photos of his siblings on Facebook, including group photos of sibling dinners and pics where he teases his brothers for being "crazy kids." Abbie, like the rest of her siblings, was homeschooled, which meant that her brothers and sisters were her friends and classmates as well as her family. Clearly, that kind of time spent together makes for a pretty strong bond, even well into adulthood.
Abbie Duggar is an Oklahoma girl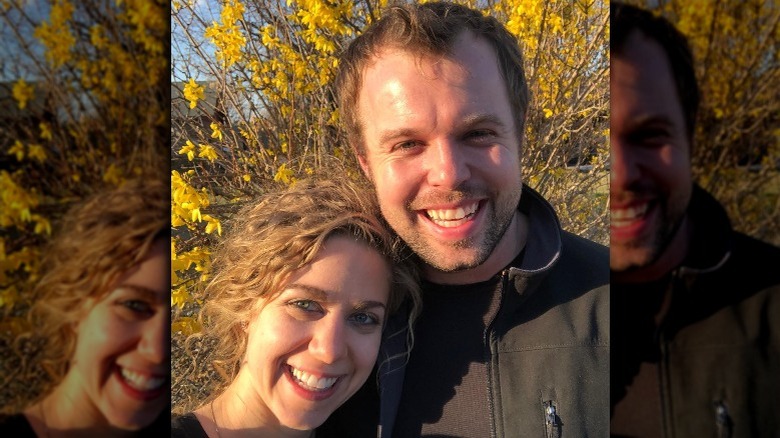 Before Abbie Burnett was Abbie Duggar, she hailed from Ada, Oklahoma, a booming metropolis of 17,140 people (via the city's official website). However, it doesn't seem that our Abbie is truly a city girl — The Duggar Family Fan Blog states that she's actually from Stratford, Oklahoma, a suburb (we're using the word liberally here) of Ada with roughly 1/10th of Ada's population. The Chickasaw Nation's tourism website describes Stratford as "the self-proclaimed peach capital of Oklahoma" and encourages visitors to check out the town's annual Peach Festival and rodeo — we'd expect nothing less from the hometown of the sweetest gal on "Counting On."
John David Duggar and the rest of the Duggar family are from Tontitown, Arkansas, which is roughly 20 miles from the Oklahoma border. It makes sense, then, that at least one of the Duggar spouses would hail from the Sooner State — especially when you consider the jam-packed speaking schedule of the Duggar family.
John David Duggar met Abbie at a church event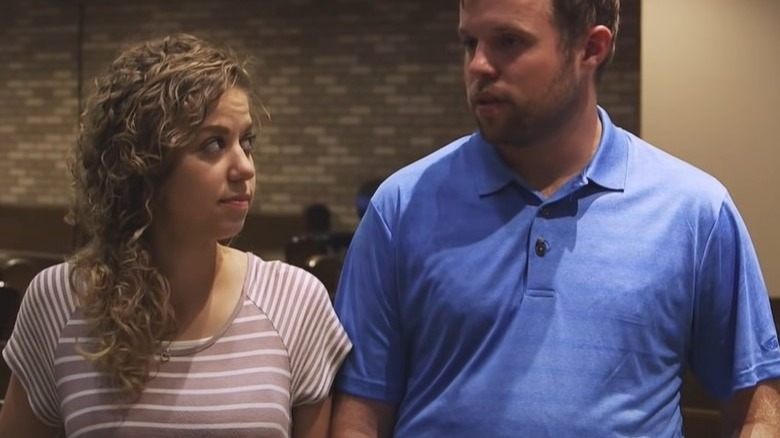 It was at a speaking event that John David Duggar and Abbie Burnett started their relationship. According to The Duggar Family Fan Blog, Michelle and Jim Bob Duggar were speaking at an event attended by Abbie and her family at Ada First Baptist Church — possibly the event on May 6, 2018, advertised by the church on Facebook. The Duggar Family Fan Blog writes that the couple "started texting, became boyfriend and girlfriend, and announced their courtship to the Duggars…all within two weeks of meeting each other." The courtship lasted less than two months before the pair were engaged — a whirlwind romance by most standards, but not surprising given that most of the Duggar kids were engaged after just a few months of dating.
On the official Duggar website, Abbie and John David describe themselves as having fallen in "love at first sight" after meeting at the speaking event. The couple decided to hold their 2018 wedding at Ada First Baptist Church instead of tying the knot in Arkansas, like some of the other Duggar siblings (via Us Weekly).
This Duggar wedding was a big, sparkly affair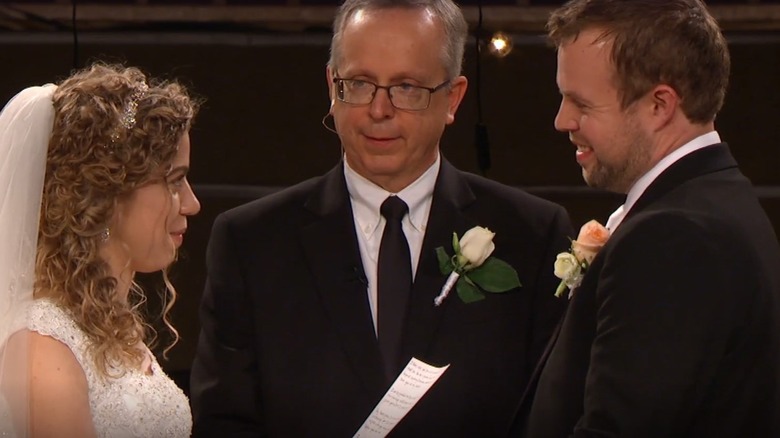 It wouldn't be a Duggar wedding without a massive princess dress, a televised ceremony, and an incredibly awkward first kiss. According to Us Weekly, Abbie and John David Duggar tied the knot in front of 1,000 guests in a November 2018 ceremony planned by Abbie's family, mother-in-law Michelle Duggar, and John David's siblings. Jana Duggar, who is John David's twin sister, clearly had grown close with her sister-in-law-to-be — she made the cut as a bridesmaid amongst some of Abbie's siblings.
In true Duggar fashion, the ceremony ended with a lengthy — and, uh, passionate –– first kiss. While the moment was likely quite sweet for those who knew the couple, posters on the DuggarsSnark subreddit couldn't believe the open display of affection. One commenter called the kiss "the most horrific thing that's ever happened at a wedding," adding that they were "including the Red Wedding on Game of Thrones" in their judgement. While the kiss may not have won over viewers, it definitely set the tone for John David and Abbie's on-screen relationship in later episodes.
Abbie Duggar plays the violin and the ukelele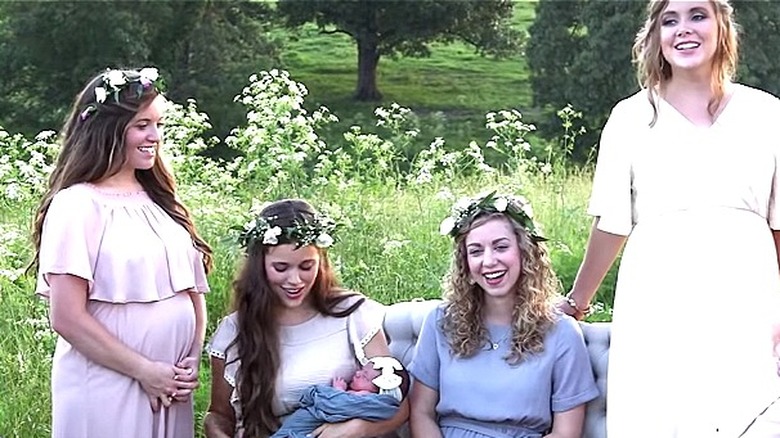 As we've learned through binge-watching TLC, the Duggar kids are, supposedly, obsessed with the violin — seriously, most of them can saw out a tune, even if it's not the most angelic sound in the world, and some of them are actually quite accomplished musicians. It's not exactly clear why evangelical Christian fundamentalists love the Suzuki Method, but the Burnett family blog suggests that the Burnett kids are also adept fiddlers. One post claims that Abbie Duggar (née Burnett) performed pieces on her violin at the Oklahoma State Capitol building in Oklahoma City, while another photo shows her holding a ukulele next to her violin-wielding sisters.
Abbie's mother, Cheryl Burnett, describes Abbie on the family blog as having "mastered the ukulele and violin," although Abbie's personal social media doesn't have much music featured on it nowadays. But it's no surprise that she may have dropped her instruments for the time being. As anyone who played the clarinet in high school marching band can tell you, sometimes a teenage passion for an instrument doesn't carry through for the rest of your life.
A love for 'little old people' brought her to nursing school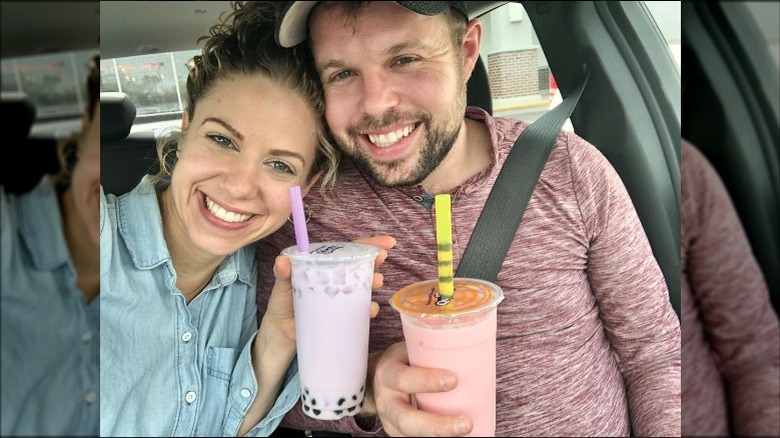 Unlike many of the Duggar women, Abbie Duggar received an education outside of the home. The official Duggar family website states that Abbie is a Licensed Practical Nurse (LPN) who "plans to keep her license current, but is not working outside of the home as a nurse right now."
In 2017, The Ada News reported that Abbie graduated from Pontotoc Technology Center in Ada, Oklahoma, with her practical nursing degree. Abbie's family was clearly proud of her accomplishment — on the 10Burnetts blog, Abbie's mother posted a photo of Abbie studying for her licensing exam and stated that Abbie began working at a nursing home soon after she graduated. Seems like the perfect career path for Abbie, who told viewers of her wedding episode that she loves "little old people" (via The Duggar Family Fan Blog). Abbie spends more time these days with family, but perhaps she'll revive her nursing career down the road.
Abbie Duggar cuts John David's hair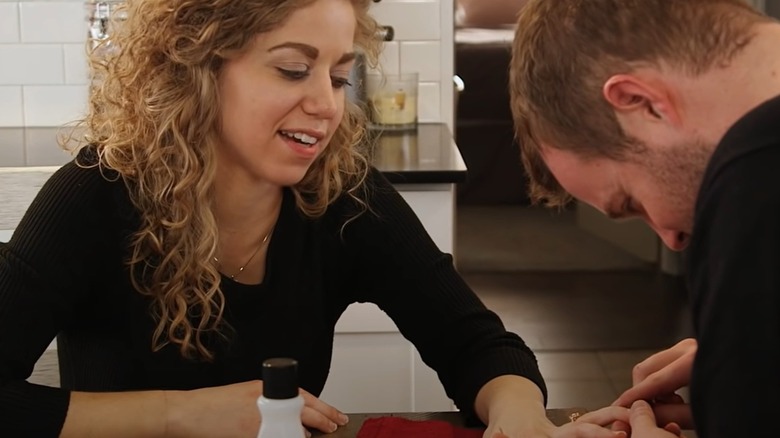 When you grow up in families as large as the Burnett and Duggar groups are, you tend to learn about the virtues of frugality pretty early on. Hallmarks of a Duggar life include couponing, buying in bulk, cooking at home, and generally avoiding the salon — which Abbie and John David accomplish by playing cosmetologist for each other.
In February 2019, Abbie shared via Instagram that she was learning to cut John David's hair, calling her husband a "brave soul" for sitting still beneath the shears while sister-in-law Jessa Seewald (née Duggar) looked on. John David reciprocated the favor, albeit not by cutting Abbie's curly locks. Instead, he learned how to paint his wife's nails by watching a technician at Abbie's salon, and gave her an on-screen manicure in 2019. No word on whether or not the couple still avoids beauty professionals, but we're sure those skills came in handy during quarantine.
Her pregnancy was rough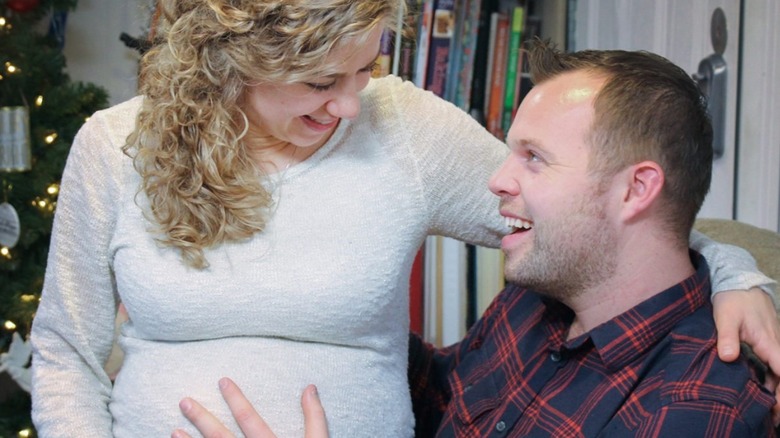 Longtime viewers weren't necessarily surprised when Abbie and John David Duggar announced just months into their marriage that Abbie was pregnant with their first child. "Counting On" doesn't shy away from the harsher realities of pregnancy and childbirth: We've seen the paramedics show up for Jessa Seewald on the show, and Joy-Anna and her husband, Austin Forsyth, had the coronavirus while Joy was pregnant. Unlike some of the other Duggar couples, John David and Abbie gave an on-screen impression that the pregnancy was going along swimmingly.
In reality, Abbie spent her first two months of pregnancy incredibly ill. She suffered from hyperemesis gravidarum, a serious condition that causes a pregnant woman to experience extreme nausea. In an interview with Us Weekly, John David revealed that Abbie had "multiple visits to the ER for dehydration" over the course of her pregnancy. Luckily, the condition eventually passed — and baby Grace Annette Duggar was born.
Candid photos only for Abbie Duggar's delivery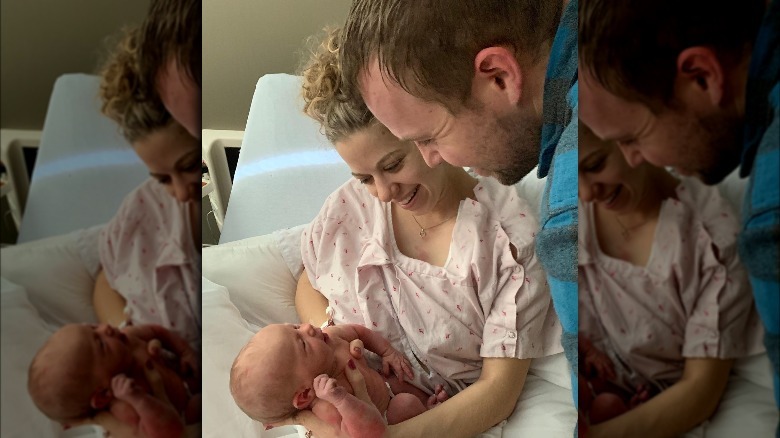 On January 7, 2020, Abbie Duggar gave birth to her first child with John David Duggar, Grace. While most of the Duggar births are televised, since that's half the point of the show, Abbie and John David opted to keep TLC's cameras out of their delivery room, instead snapping a couple of candid pics that they later posted to their shared Instagram.
The couple didn't state why they booted cameras from the delivery room, but in doing so, they bucked a Duggar tradition. Cameras were present for the deliveries of most of the other Duggar births, including the "agony" of the hours-long labor experienced by sister-in-law Lauren Duggar (via Daily Mail). Given Abbie's medically intense pregnancy and seemingly eternal labor — she was sent home from the hospital to labor longer at home before returning for the birth — it makes sense that she wouldn't want primetime viewers privy to the intense and intimate experience of her child's birth.
She's been involved with the Institute in Basic Life Principles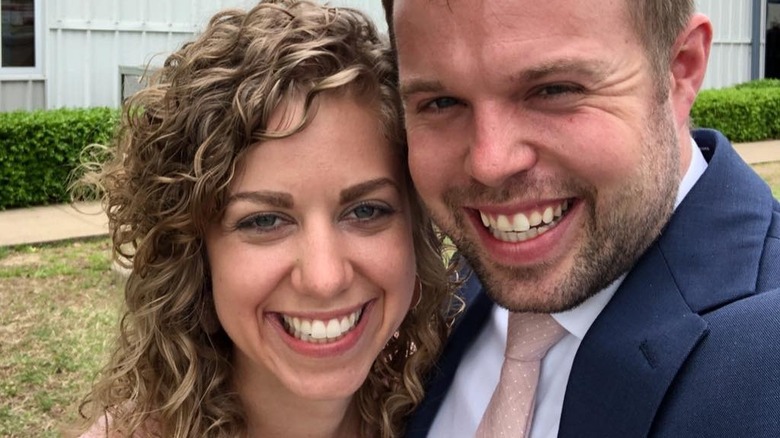 Most viewers probably assume that the Duggars, including Abbie Duggar, are Baptists or some other brand of average Evangelical Christian. They have specifically been classified as Independent Christian Baptists. However, both the Duggar and Burnett families are associated with a much more conservative branch of Christianity — the Institute in Basic Life Principles, or IBLP.
According to Chicago Magazine, the Duggar family has been part of the IBLP for decades — the IBLP's homeschooling division, the Advanced Training Institute, provided the curriculum with which the Duggars educated their children. The family even went so far as to send the oldest Duggar child, Josh Duggar, to an IBLP treatment facility, rather than a medically accredited facility, when he was accused of molesting four of his sisters and one other teen girl.
Chicago Magazine also reports that in 2014, the IBLP's prophet-like figurehead, Bill Gothard, resigned from the organization's leadership after multiple people claimed that they were "sexually, physically, emotionally, spiritually, and/or psychologically [abused]" by the preacher.
If you or anyone you know has been a victim of sexual assault, help is available. Visit the Rape, Abuse & Incest National Network website or contact RAINN's National Helpline at 1-800-656-HOPE (4673).
Abbie Duggar's engagement was featured on the Institute in Basic Life Principles website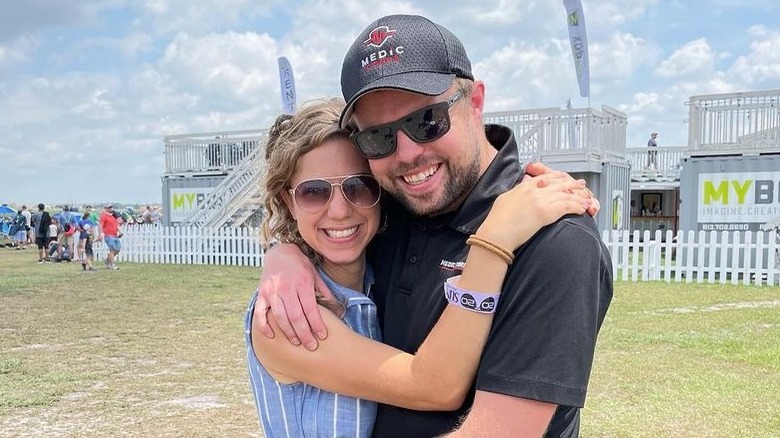 Although the Duggars are arguably the most famous of the large, publicly evangelical families associated with the Institute in Basic Life Principles, the Burnett family are also heavily involved with the organization. At one point, they even had a testimony on the IBLP website. It makes sense, then, that the IBLP would proudly display Abbie Burnett on their website once she and John David Duggar announced their engagement (via InTouch).
Abbie doesn't seem to post about the IBLP or openly talk about the organization's beliefs, but it could be assumed that she plans on raising her children with the same doctrine she grew up with — faith tenets including, "Dating is forbidden," women are inherently subservient to men, almost all modern music is inappropriate, and uncircumcised men are morally impure (via Chicago). However, more and more former IBLP believers are finding the strength to leave the organization while maintaining their Christian faith.
She's embracing motherhood her own way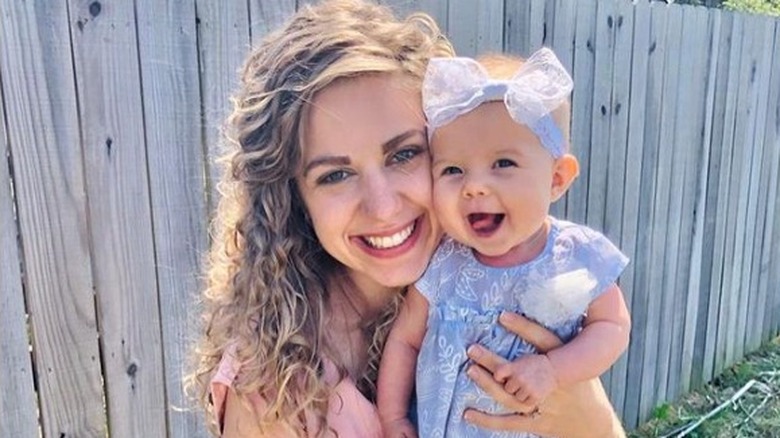 The religious organization that Abbie and John David Duggar were raised in, the IBLP, teaches that motherhood is the highest calling for a woman — one ex-member told Salon that in order to prevent women from controlling their fertility, "married women are separated from everyone else and asked if they are having thoughts about using birth control, or if they feel resentment about having so many children" at IBLP conferences. Supersized families like the Duggars and Burnetts are the goal of the IBLP and the "Quiverfull" movement, which encourages women "give birth to as many children as possible to strengthen God's kingdom" (via The Guardian).
But unlike Michelle Duggar, and even some of the older Duggar siblings, including Jessa and Josh, Abbie and John David don't seem to be in a rush to expedite the growth of their family. Baby Grace was born in January 2020, and as of late 2021, Abbie has yet to announce another pregnancy. There could be a host of potential reasons why, including Abbie's health issues with her first pregnancy, but the extreme openness the Duggars tend to have about fertility, pregnancy, and loss gives the impression that Abbie and John David have other reasons for waiting for a second baby.
Abbie is 'weird' like John David — and that's why it works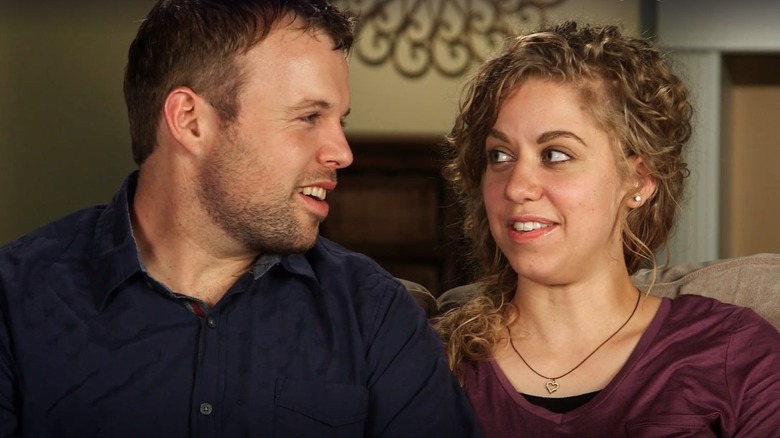 Many of the older Duggar children, including Jessa, Jinger, and Joy-Anna, seem to have more distant relationships with their spouses than Abbie does with John David. On the subreddit DuggarsSnark (a forum on Reddit for people to "snark" on the Duggars, their spouses, and other religious fundamentalists) viewers have taken notice of John David's unusual affection towards Abbie. In the words of one Reddit poster: "Why are they so weird? Is it because they actually genuinely like each other?" Posters came to the consensus that both halves of the couple possess the general lovely weirdness of "band and art kids," and that it's clear they're thrilled to have found each other.
Redditors pointed to little moments as proof of John David and Abbie's compatibility — like a scene in Season 11, Episode 1 of "Counting On," when Abbie remarked that she felt "like an alien sometimes," which got a laugh from John David laughed. Or Season 11, Episode 4, when Abbie and John David happily bit into a snack of crickets, which horrified the rest of the Duggars. As the old maids of their families (by IBLP standards, of course), Abbie and John David must be thrilled to have found each other.
Source: Read Full Article