Chrissy Teigen continues her streak of epic, Internet clap backs.
On Tuesday, the Lip Sync Battle host defended her three-year-old daughter Luna after a troll left a pretty rude comment about the toddler's hair on Instagram.
It all started on Monday, when the 33-year-old TV personality shared two, seriously adorable videos of her and Luna engaging in "negotiations" over candy.
Yes, candy! Because what else would be such a source of contention for a three-year-old? LOLz…
In the first video (below), Teigen adopts the role of courtroom judge and little Luna to make a good case for why she should be allowed a sweet treat.
With daddy John Legend by her side, Luna delivers an epic defense of, "I want it because I want it."
After some back and forth over how many pieces of candy will suffice, the mother-daughter duo settle on two!
The whole thing was laced with humor and clearly in good fun. However after E! News reposted the video, one user chimed in with a comment about the child's hair.
She wrote:
"Finally someone brushed her hair" — @kmolleda on Instagram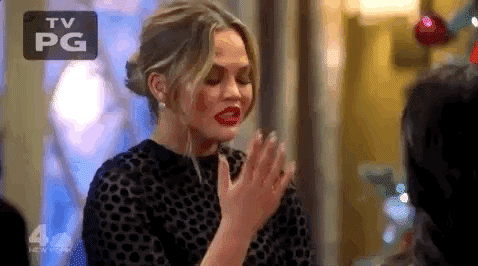 Without missing a beat, our girl savagely responded, saying:
"All by herself! Maybe she can come do your makeup."
Ha! Take that!
Seriously guys. It should be common knowledge by now that it's just in poor taste to make rude comments like that about children online. It's not even like the girl could defend herself! Nor should she even have to.
Take this recent exchange as a reminder of what happens if you dare try and come at Chrissy — or any member of her family!
In fact, can this just serve as a general PSA to stop body/hair/fat shaming kids on the Internet altogether?
Fellow celebrity chef, author, and mother Ayesha Curry found herself in a similar situation back in late May, when an insensitive IG user suggested that her 10-month-old baby, Canon Jack Curry, was overweight.
Ayesha posted a sweet, group photo supporting hubby Stephen Curry; the Golden State Warriors had just won the NBA Western Conference Championship, and the whole family was there to celebrate.
One user decided to first put their foot in their mouth and rudely ask the Homemade business owner was expecting again. The Curry matriarch opted to play it cool, and responded:
"Absolutely not, LOL. My 30lb son is just breaking my back in every Photo."
Another idiot chimed in with this unwarranted comment, saying:
"Maybe portion-control his food a bit."
To which, she incredulously replied:
"Excuse you? No. Just no."
See what we're getting at here? There are some things that just do not need to be said. Ever.
Thoughts, Perezcious readers? Would YOU have clapped back the way these mommas did?
Sound off in the comments below!
[Image via Chrissy Teigen/Instagram
Source: Read Full Article