Drake accused of inappropriate behavior? And not a teenage girl in sight??
Yep, this is all about crossing lines on the basketball court.
As any fan knows, Drizzy is a major NBA fanatic and LOVES him some Toronto Raptors. He goes to as many games as he can and sits courtside at every one.
Well, "courtside" may be a conservative way of describing Drake's position. And therein lies the problem.
He's often on his feet, shouting at players, blurring the lines between fan and… something else.
During Tuesday night's Game 4 against the Milwaukee Bucks, he even seemed to have an understanding with Raptors coach Nick Nurse — he even rubbed the man's shoulders at one point!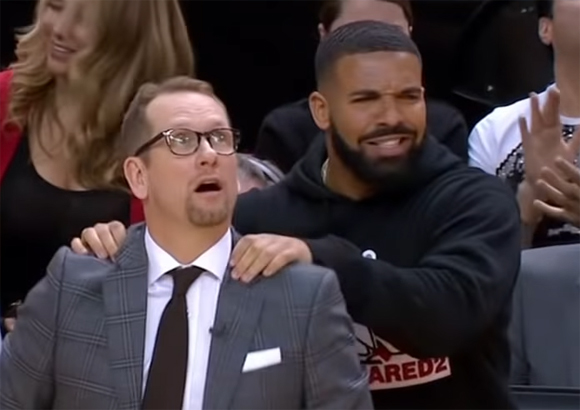 The Raptors went on to win 120 to 102, tying their four game series, 2-2.
It was after their loss that Bucks head coach Mike Budenholzer complained to reporters about Drake's behavior:
"I see it in some timeouts, but I don't know of any person that's attending the game that isn't a participant in the game a coach — I'm sorry, a player or a coach — that has access to the court…
There's certainly no place for fans and, you know, whatever it is exactly that Drake is for the Toronto Raptors."
He really does have a cheerleader/sixth man kind of thing going on. But hey, fans get animated, right?
Well, yes, but Budenholzer is concerned with where Drake is animated:
"You know, to be on the court, there's boundaries and lines for a reason, and like I said, the league is usually pretty good at being on top of stuff like that."
This follows a Game 3 in which Drake mercilessly yelled trash talk at Bucks forward Giannis Antetokounmpo.
Antetokounmpo's former agent Georgios Dimitropoulos tweeted (then deleted):
"Imagine a gig and an athlete on VIP seats, right next to the band, stands up on the stage just to show off during the entire game, knowing cameras are on him, occasionally even massaging the singer. Security and him both allow it. Never seen anything as disrespectful as this before…"
So… he's saying Drake is a groupie?? LOLz!
Drake responded as you might imagine: with an Instagram post seemingly bragging about his closeness to the Raptors, with photos captioned simply with laughing and shrugging emojis.
View this post on Instagram
????‍♂️
A post shared by champagnepapi (@champagnepapi) on
Do YOU think Drake goes too far on the court??
Source: Read Full Article