If you want a preview of the next inevitable Kardashian feud, you've come to the right place. In an exclusive clip from this Sunday's episode of Keeping Up With the Kardashians, Kylie and Kris Jenner both talk mad sh*t about each other behind the other one's back.
The topic of discussion is Kylie's new office, which Kris, naturally, thinks is *her* new office. Kris is talking to Kourtney Kardashian on the phone and says that Kylie's been really possessive of the space lately.
But Kylie, who's speaking about it to Khloé Kardashian, tells a different side of the story. Apparently, Kris gave Khloé and Scott Disick a full-on tour of the office, acting like it was hers. And she parks in Kylie's parking spot, which Kylie was v pissed about and called her out on.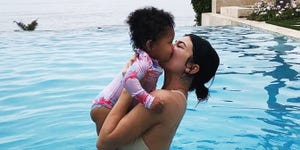 "Kris Jenner is just doing too much with my office," Kylie says. "It's Kylie Cosmetics. How is she gonna hide this when my office is done and you walk up and the door is glass, my logo?"
Kourtney, on the other hand, thinks Kylie's being rude for treating her mother so poorly. Kris described a situation where Kylie kicked her out of their office while she was on an important call so she could do her own work.
"She has this, like, entitlement. No one says anything because she's Kylie Billionaire Jenner," Kourtney says.
The editing on this clip is Emmy-worthy, quite frankly.
"I'm important. I've helped build this business with Kylie, and I'm older…I deserve a little bit of respect," Kris says, as she goes to turn her massage chair back on.
YAS QUEEN.
You can catch KUWTK at 9 p.m. Sunday nights on E!
Source: Read Full Article