Below Deck Galley Talk was such a huge hit, ratings outpaced The Real Housewives of Dallas Season 5 premiere episode.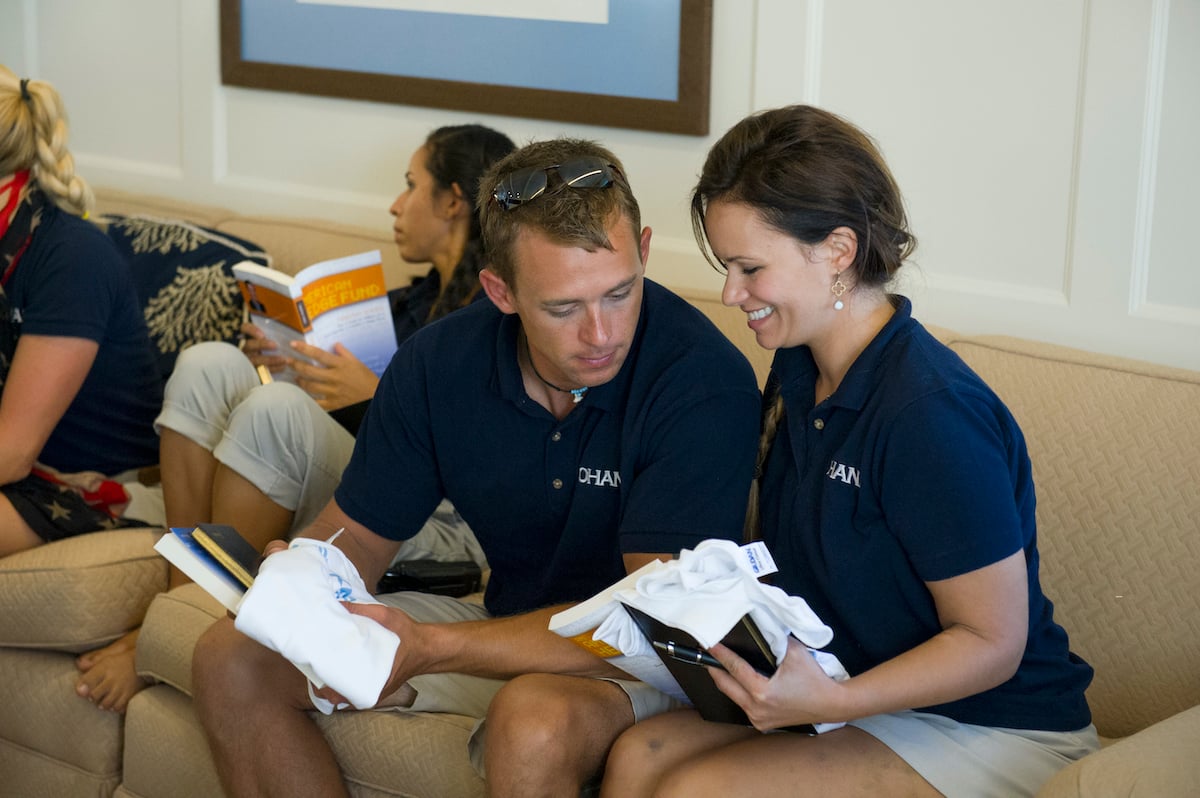 Surreptitiously tucked into the 7 pm time slot on Friday, Jan 1, Below Deck Galley Talk ended up generating an impressive 0.363 million live viewers, despite competing with an awkward time slot and New Year's Day football games. And while the new Below Deck talk show was quietly dropped into an off time and day, The Real Housewives of Dallas, which was promoted with significant fanfare drew fewer live viewers.
"S05E01 [Official Premiere] – 0.337 million viewers (0.12 18-49 demo)," Bravo Ratings shared. While viewers believe the ratings will rise, the Bravo Ratings account isn't overly optimistic about how high they will go. "For sure, but unfortunately, for some reason, I think it will only go up to around 4-500k, I'm hoping I'm wrong though."
Meanwhile, 'Below Deck Galley Talk' drew even more viewers
Bravo re-ran Friday's episode before the new episode of Below Deck on Monday. At this point fans who caught the first episode were buzzing about it. Monday ratings for Below Deck Galley Talk hit 0.496 million live viewers, according to Showbuzz Daily.
Monday's repeat episode surpassed many episodes of Watch What Happens Live with Andy Cohen and Bravo's Chat Room, making it the top talk show on the network.
Meanwhile, Below Deck has remained solidly in the 1.5 million live viewer range. "S08E10 – 1.560 million viewers (0.53 18-49 demo)," Bravo Ratings tweeted about the latest episode. Eddie Lucas and Ashling Lorger from Below Deck were WWHL guests and brought the show the highest ratings of the week.
Fans can't get enough of 'Below Deck Galley Talk'
Promoted as a show similar to The People's Couch, Below Deck Galley Talk features fan-favorite cast members dishing about the current episode. Bravo has featured cast members dishing about previous episodes in the past. But for the first time, the show highlighted four teams of crew members dishing about the episode and sharing behind the scenes secrets.
Now fans can't get enough of the show with many taking to Twitter to share their excitement. "I had tears from laughter after seeing @Kate_Chastain and her goat face," one person commented. Another person tweeted, "#GalleyTalk is the actual best thing to happen to the #BelowDeck franchise in ages. So fun to have a #ThePeoplesCouch with some favorite yachties."
"I think that this show should aired sooner in season," another fan wrote on Twitter.
"A very entertaining hour of bravo TV. As has been mentioned it's basically pillow talk for bravo. So much better than the other show the 'chat room' which is barely watchable," a Twitter fan added.
Colin Macy-O'Toole from Below Deck Mediterranean told Showbiz Cheat Sheet he had a blast filming the series. "When Bravo said they wanted me to do the show, they asked who did I want to watch Below Deck with," Macy-O'Toole said. "I was like Bobby! We were already doing those jams during quarantine, so I knew Bobby and I would have a blast." 
Source: Read Full Article