TLC's Doubling Down With the Derricos stars Karen and Deon Derrico have a huge family, and they share the ins and outs of their home life on their TV series. Karen is a stay-at-home mother who chooses to homeschool all of their kids, but she was initially reluctant to start. Here's why.
How many kids do the Derricos have on 'Doubling Down With the Derricos'?
Karen and Deon Derrico have 14 children, all featured on Doubling Down With the Derricos. They have a set of quintuplets, a set of triplets, two sets of twins, and two singles.
"We've had four sets of multiples back to back," Karen noted early on in the show. "I've been pregnant six times, and all of my children were naturally conceived."  
Karen and Deon are open to having more children, too. In March 2022, the couple told Entertainment Tonight they hadn't ruled out having another baby.
"No, that diaper bag is not being hung up," Karen explained. "I don't feel complete. I don't think we are 100% complete."
Deon agreed. "[I] think when you have created — what I think we have created — in this home, the love, the amount of love, I could just never get tired of," he added.
Karen Derrico felt worried about homeschooling her kids at first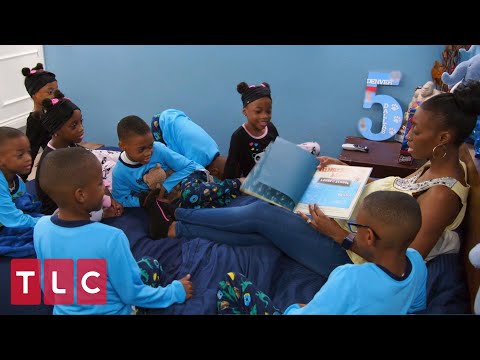 While Karen and Deon Derrico are open to expanding their family, that also means homeschooling one more child. And homeschooling didn't come easy for Karen.
"We had already decided to pull the [nine] kids out of their school before COVID happened, so we were already acclimated with homeschooling at that time, so that was a huge blessing," the Doubling Down With the Derricos star told Homeschool Academy. "Although, at the time, I didn't think it was! I was just like, 'This is really frustrating right now. How am I going to do this … homeschool all nine of them, take care of the younger ones, be pregnant, be on home rest and bedrest?' It was a lot."
Karen noted in order to get anything finished in her home, she sets "strict bedtime rules" for the kids. She also has a calendar that helps her organize homeschooling and filming schedules. Karen also called herself a "drill sergeant" when getting the kids ready for the day.
Karen Derrico says the size of her house is the hardest part about homeschooling
What's the most difficult part about homeschooling nine kids? Karen Derrico says the size of her house makes it extra hard.
"The biggest challenge is our small-sized house," the Doubling Down With the Derricos star told Facebook during a Q&A about homeschooling. "I know you might say, 'Oh! How is that your biggest?' Because I have 14 children. I have them up and downstairs."
Karen then explained the setup in her home. Some of her kids sit at the kitchen table while others spend time in their rooms or the classroom in the house. "That's a challenge because I'm upstairs, I'm downstairs, I'm in the room, I'm making sure everybody gets on," she explained. "So, as a teacher, normally in a classroom, you have all your children around you. When I was in a classroom, I had teacher's assistants. Yeah, don't have that anymore. I am the teacher, [and] I am the teacher's assistant. I am everything."
Doubling Down With the Derricos airs Tuesdays at 10 p.m. EST on TLC.
Check out Showbiz Cheat Sheet on Facebook!
Source: Read Full Article